September holidays are over and I come back home from Romagna full of flavors of the sea … but not only.

The greatest gift I take home is the cassoni legendary recipe!

The so-called "younger brothers" of piadina but certainly not for me who ate it in abundance.

For those unfamiliar with them, these are essentially closed wraps with an exaggerated filling.

If you have been in the area you know how they are there in terms of portions … a bit abundant !!

But, you know: Romagna people, people of heart.
MAKES 5 cassoni
READY IN 2h 15'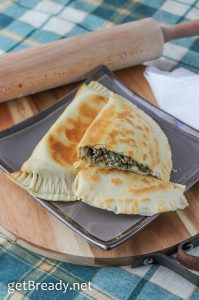 INGREDIENTS:  
8,8 oz  flour
1 teaspoon lard, soft
1,4 oz milk at room temperature
1 teaspoon salt
1/2 teaspoon baking soda
lukewarm water totaste
3 sausages
1 tablespoon extra virgin olive oil
5 oz boiled spinach ( well wrung-out !)
Salt to taste
Flour to taste
7 oz squacquerone cheese
STEP 1: MAKE THE DOUGH

Place in a bowl: flour, lard, milk, salt and baking soda.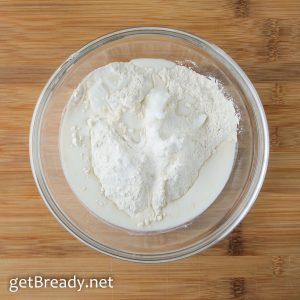 Start kneading by hand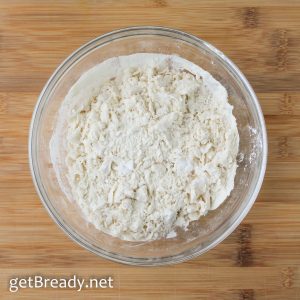 and add – little by little  – as water as necessary to get a dough ball .
Rest the dough for a couple of hours (it will be better all night long).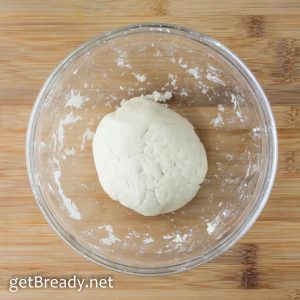 STEP 2: MAKE THE FILLING

Chop the sausages and cooke then a couple of minutes in a non-stick pan with oil.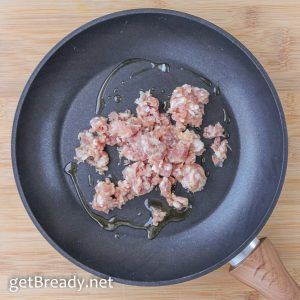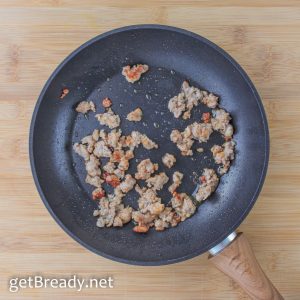 Add spinach and cook for 3-4 more minutes adding a pinch salt too.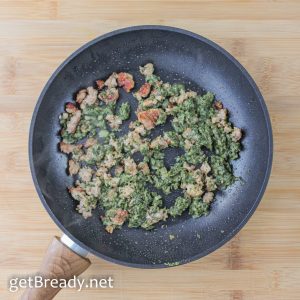 STEP 3: MAKE "CASSONI"

Divide the dough ball into 5 small balls.
Sprinkle the pastry board with flour then roll each small ball out.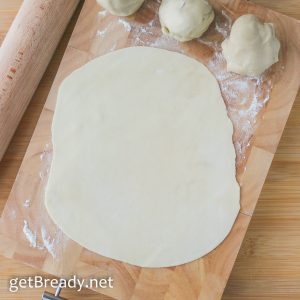 If you don't get a perfect hand circle, you can use my own trick 😊
I use an inverted bowl to cut out a perfect circle in the pastry!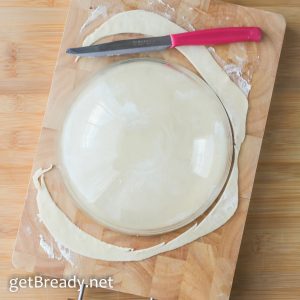 Fill a hal with sausage+spinach filling and add squacquerone cheese too.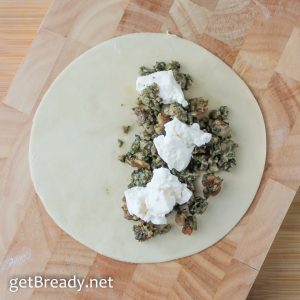 Close to get a half-moon shape.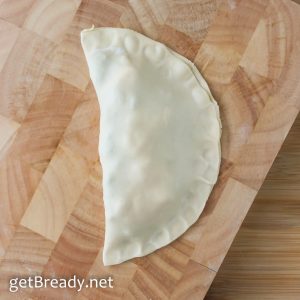 Press the external edge with a fork to close the filling inside.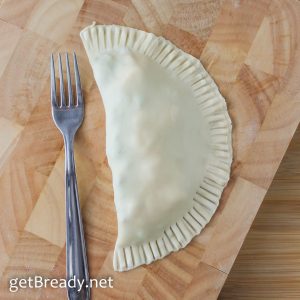 STEP 4: COOK
Heat a non-stick pan.
Add one cassone at a time by cooking it on each side (including the mid side).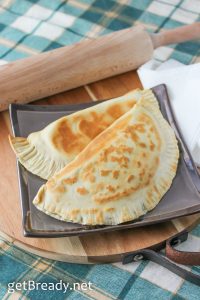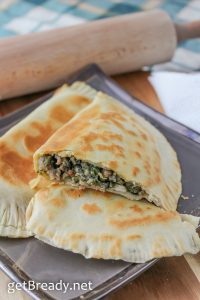 #getBready & enjoy your meal
Share on: