Are you at the millionth attempt in the fight against vegetables with your children?

 (whether young or old, huh!)

 I think today's recipe will help you to make your family discover the flavor of fennel in small steps: because we know that it takes gradualness in all fields, in the kitchen above all!

    The savory pie with fennel and cooked ham is really an excellent compromise between taste and health. It's a super complete meal, that I like to make often, especially when autumn arrives and fennel begins to crowd the fruit and vegetable stalls in large quantities.

    How could I resist then?

    Let's get to work and prepare something healthy and delicious!
SERVES 4 PEOPLE
READY IN 30′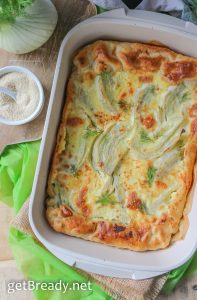 INGREDIENTS:
2 fennels
water and coarse salt to taste
5,2 oz ricotta cheese
2 eggs
1 glass milk
2 tablespoons Parmigiano cheese
salt and pepper to taste
1 puff pastry roll, rectangular (I  used Stuffer)
5-6 ham slices
5 oz Asiago cheese
1 tablespoon milk
2-3 tablesonns Parmigiano + breadcrumbs
butter to taste
STEP 1: BOIL THE FENNELS

Wash the fennel and cut off the ends. Now cut them into slices about 1 to 1.5 cm thick.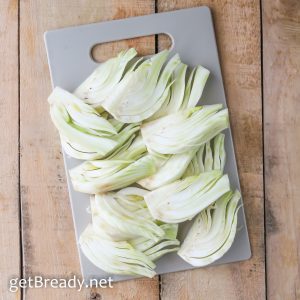 Put water in a large skillet and bring it to a gentle boil. Add  salt, then the fennel and cook until softened (approx. 1-15 minutes).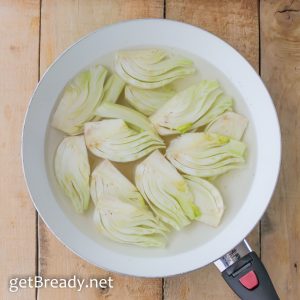 STEP 2: MAKE THE BATTER

Place in a bowl: Ricotta cheese, eggs, mik, Parmigiano, salt and pepper.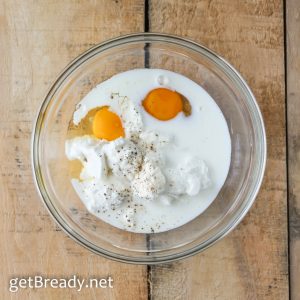 Whisk with a fork.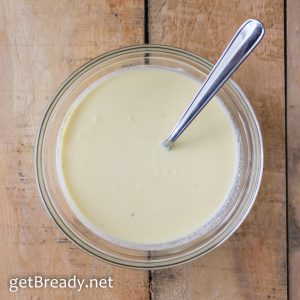 STEP 3: COMBINE THE INGREDIENTS

Unroll the puff pastry sheet and place it ina rectangular cake pan on parchment paper.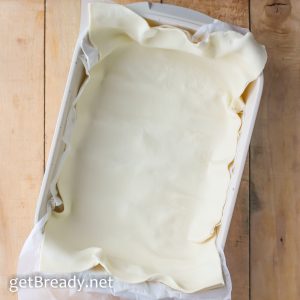 Add ham,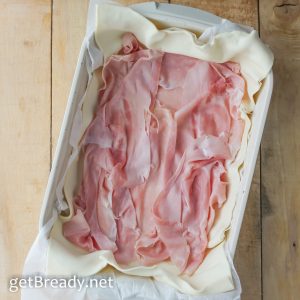 boiled fennel,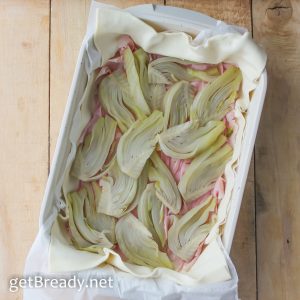 and cubed Asiago cheese.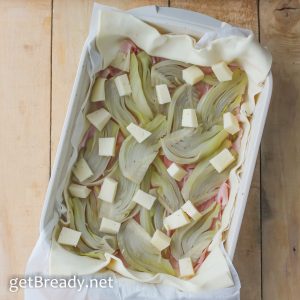 Cover with the batter prepared on step 2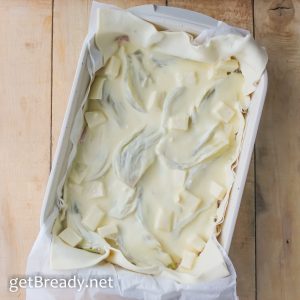 Then wrap the edges of the puff pastry inwards and brush them with milk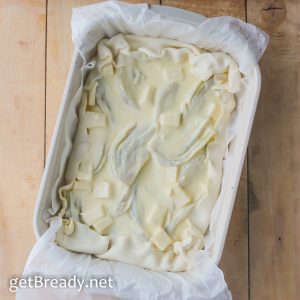 finally sprinkle with Parmigiano + breadcrumbs and butter leaves.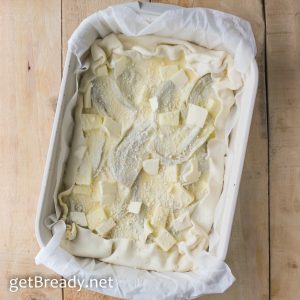 STEP 4: COOK
Cook the pie in preheated oven at 220°C fr about 18-20 minutes.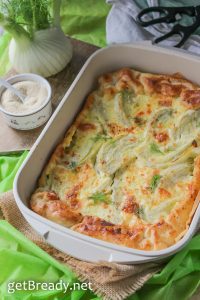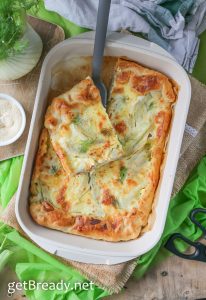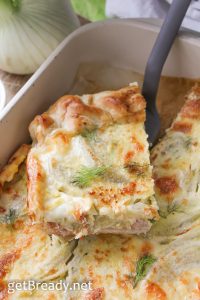 #getBready & enjoy your meal
Share on: