Do you already have the right idea for the next birthday cake?

    If you're looking at your feet to the ground scratching your head with your finger, don't worry: I'll take care of it! Today I will unpack a delicious cake for you: ​​cream and chocolate one!

Soft and with a double, delicious filling! Impossible to resist it.
MAKES 1 24-CM DIAMETER CAKE
READY IN 1 h
INGREDIENTS:
3 egg yolks
1 whole egg
3,5 oz sugar
1/2 small cup milk
3 egg whites
1,5 oz sugar
7 oz 00 flour
2 tablespoons cocoa powder
teaspoon baking powder
Butter an flour to taste
4 egg yolks
4 oz sugar
3 oz all-purpose flour
2 cups milk
2 tablespoons sugar
1 teaspoon vanilla extract
pinch salt
2 tablespoons  dark chocolate
2 cups cream
1 glass lukewarm milk + 1 teaspoon confectioner's sugar
STEP 1: FAI L'IMPASTO DELLA TORTA
Whisk the egg yolks sugar and milk with the electric whisk for about 5 minutes.
In another bowl (be sure to wash the whips), whisk three egg whites with sugar until stiff.
Now add whipped egg whites to egg yolks and sugar mixture, but carefully (use a spatula and mix from the top to the bottom).
Add sifted flour, cocoa + baking powder
STEP 2: BAKE THE CAKE

Place the cake mixture in a buttered and floured cake pan and bake it in preheated oven at 180 ° C for 40 minutes.
Let it rest at room temperature.
STEP 3: MAKE THE CHOCOLATE CREAM

Whisk the yolks and sugar together in a bowl until well blended (about 5-10 minutes). Then add the flour.
Place in a pan the milk, two tablespoons sugar, vanilla, salt and chocolate. Mix thoroughly and bring to a boil.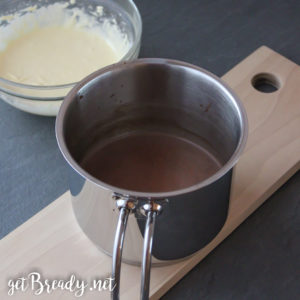 Reduce heat to low and simmer for 10 minutes adding the eggs mix previously prepared. Bring the mixture to a boil, then remove from heat.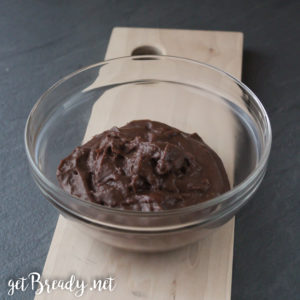 STEP 4: WHIP THE CREAM

Place the cream in a bowl and whip.
STEP 5: FILL THE CAKE

Slice the cake in three disks.
Brush the disc below with milk + sugar mix using a kitchen brush.
Now spread a layer of chocolate cream,
cover with the second cake disk
and spread a layer of cream ( save half cream to cover the external part of the cake).
Place the last disk of cake.
Cover the cake with the remaining cream.
STEP 6: DECORE
Coarsley chop chocolate.
Cut out parchment paper strips (about 2 cm wide) and arrange them gently on top of the cake at even intervals. Now distribute the chopped chocolate along the strips that are not covered by the parchment paper, finally remove the paper very gently.
That's an amazing way to make oblique band decoration on the surface of the cake!
If you want you can distribute leftover chocolate at the base of the cake to complete the decoration.
#getBready & enjoy your meal
Share on: