Simply irresistible: these eggplant rolls can only be called that!

And after all, how can I describe a filling where a pulpy sauce meets stringy cheese?

Come on, to describe it, you really have to try it, and then here it is today's recipe: easy, tasty and mouth-watering.
MAKES AB. 10 rolls
READY IN 30 '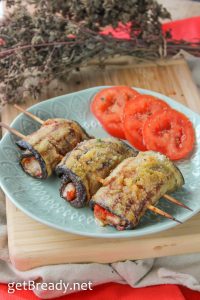 INGREDIENTI:
INGREDIENTS:
2 tablespoons extra virgin olive oil
1 teaspoon chopped onion
1 cup tomato puree
2 tomatoes
salt and oregano to taste
2 eggplants
extra virgin olive oil to taste
Salt to taste
Cheese to taste
extra virgin olive oil to taste
4 tablespoons breadcrumbs
STEP 1: MAKE THE SAUCE
Fry onion in oil until golden,
Add tomato puree,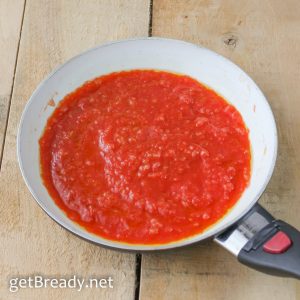 then chopped tomatoes, salt and oregano.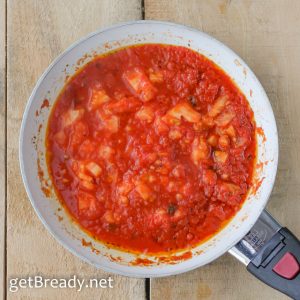 Cook for about fifteen minutes on low heat, covering the pan with a lid.
The sauce will thicken as you can see in the pic (if not, continue cooking for a few more minutes).
STEP 2: GRILL THE EGGPLANTS
Slice the aubergines thinly lengthwise.
Place the slices on a very hot grill pan greased with a drizzle of oil, add a sprinkling of salt and cook  turning them on both sides.
STEP 3: STUFF THE AUBERGINES
Take a slice of grilled aubergine, stuff it with a spoonful of tomato sauce and a sprinkle of cheese.
For this recipe, i recommend not to use a watery cheese (therefore not mozzarella) to prevent it from coming out of the roll during cooking.
Now wrap the rolls
and stick them in a wooden skewer.
Place the skewers to a baking sheet lined with parchment paper greased with oil, sprinkle with breadcrumbs and add a drizzle of oil on top as well.
STEP 4: COOK
Bake the rolls in preheated oven at 220 ° C for the time necessary to brown them (10 minutes are enough), alternatively you can grill them on a hot grill for a few minutes.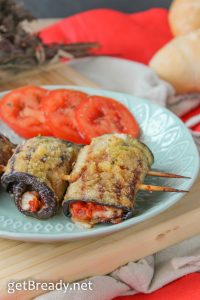 #getBready & enjoy your meal
Share on: