Take out the best pan you have at home because we're having stuffed focaccia! Yeee!

And no excuses, because the disposable aluminum one is fine too 😉

Making it is so easy (you simply need a fork to knead it) and it's a real bomb: a soft but crunchy dough on the bottom and an exaggerated filling based on stringy cheese and bacon. I forgot something? Of course! the covering of potato sheets: simply delicious!

Read the recipe and find out how to prepare it in simple steps.
SERVES 6 PEOPLE
READY IN 4 h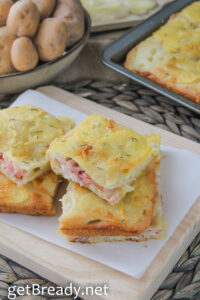 INGREDIENTS:
10 oz lukewarm water + ½ oz brewer's yeast
9 oz all-purpose flour
4 oz semolina
2 tablespoons potato flakes
2 pinches salt
3 tablespoons extra virgin olive oil
extra virgin olive oil to taste
cheese to taste
ab 20 slices bacon
1/2 glass water + extra virgin olive oil
salt to taste
2 potatoes
salt and extra virgin olive oil to taste
fresh rosemary
STEP 1: MAKE THE DOUGH
In a mixing bowl, blend: water +brewer's yeast,
then add – little by little – all-purpose flour, semolina, potato flakes, salt and oil.
STEP 4: LET IT RISE
Cover the dough  with cling film and let it stand at room temperature for a couple of hours.
STEP 3: FILL THE FOCACCIA

Divide the dough into two equal parts. Grease your hands with a little oil (the dough will be rather sticky and greasing your hands will be very helpful!) Then distribute a couple of tablespoons of oil in the oven pan and using your fingertips spread the dough all over the surface.
If the dough comes back don't get angry, let it rest for about ten minutes (so it rises and relaxes again) and then resume rolling it, it will be more collaborative 😉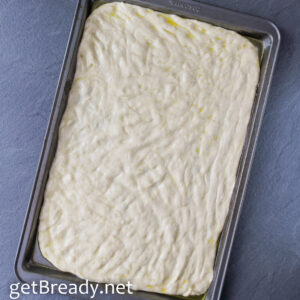 Fill the focaccia with cheese,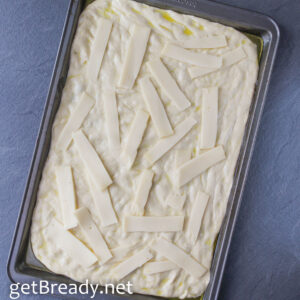 bacon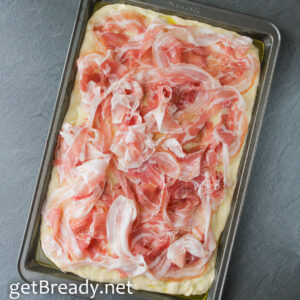 and close the focaccia by placing the second piece of dough on top of the filling. To do this, I suggest you to spread it with your fingertips on a pastry board sprinkled with semolina and then transfer it to the focaccia. If it breaks here and there, don't worry, some cuts help the humidity to come out during cooking!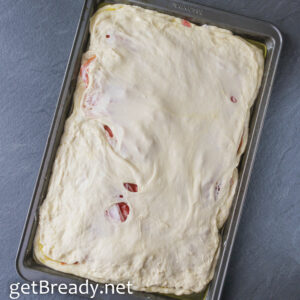 STEP 4: LEAVE
Mix a little water and oil in a glass in equal parts and add two pinches of salt, stirring to make it dissolve.
Brush this mix on the focaccia, then put the focaccia to rise in the unlit oven for about 30-40 minutes.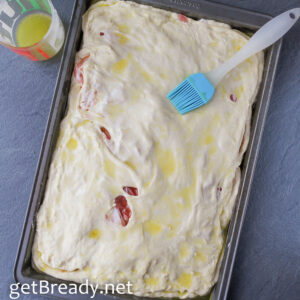 STEP 5: SLICE THE POTATOES

Peel and slice them very thinly; to do this you can use a mandolin or even a potato peeler 😉
Place the potatoes to a bowl and season them with salt and oil.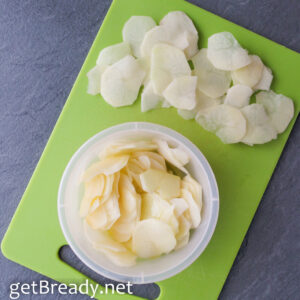 STEP 6: ADD THE POTATOES

Sprinkle the leavened focaccia with the potato slices trying to overlap them only slightly, then add some rosemary.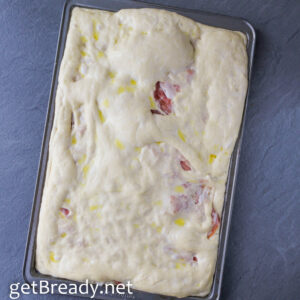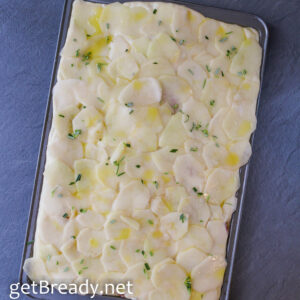 STEP 7: BAKE

Bake the focaccia in preheated oven at 210 ° C for 20 minutes, then place it on the top shelf of the oven and continue cooking at 250 ° for  5 more minutes.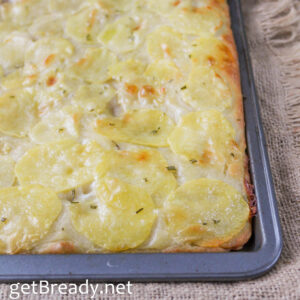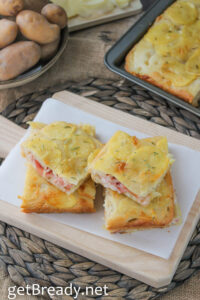 #getBready & enjoy your meal
Share on: