If you had to represent Rome with a picture how would you paint it?Well on the subject you can really range, but the choice of colors is more than obligatory! So, here's my tribute to the capital: a red and yellow savory pie full of flavour!

It's made of phyllo dough, potatoes, peppers and sausage – in short, a top hunger breaker!

Making it is very simple and I'm telling you how to do it below:
SERVES 4 PEOPLE
READY IN 1h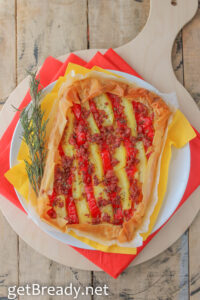 INGREDIENTS:
3 potatoes
water and coarse salt to taste
2 red peppers
1 teaspoon of onion
2 tablespoons of extra virgin olive oil
Salt to taste
scant 1/2 glass of water
2 sausages *
N. 3 sheets of phyllo dough
seed oil to taste
1 pack of fresh cheese*
dried rosemary to taste
1 tablespoon of extra virgin olive oil
* choose lactose-free products and this recipe will also be excellent for those who are lactose intolerant!!
STEP 1: BOIL THE POTATOES
Cut the potatoes into wedges and blanch them in salted water for about 10 minutes, then drain and set aside.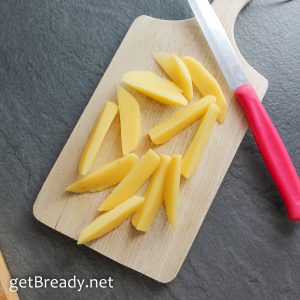 and blanch them in salted water for about 10 minutes, then drain and set aside.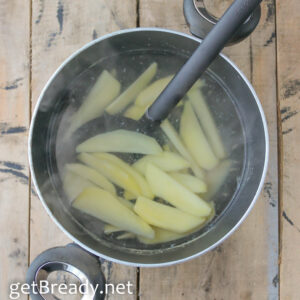 STEP 2: COOK THE PEPPERS
Wash the peppers, remove the stalk, the internal seeds and the white parts. Cut them into strips.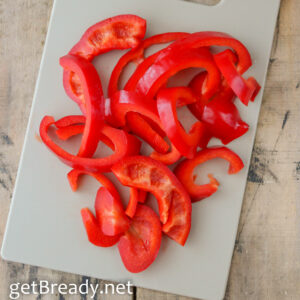 Gently fry onion in oil in a pan, then add the peppers, salt and water.Cover with the lid and cook for 7-8 minutes (the peppers should just soften a bit).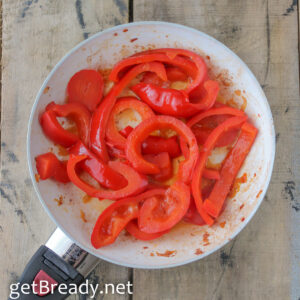 Now transfer them to a bowl together with the previously blanched potatoes so that the two ingredients flavor each other and add a pinch of salt.

STEP 3: COOK THE SAUSAGE
Remove the casing and cut the sausage into chunks.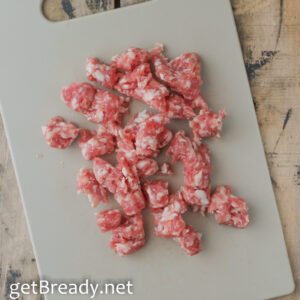 Transfer it to a very hot non-stick pan (you can also use the same one in which you cooked the peppers) and brown it without adding anything. With a fork, mash it.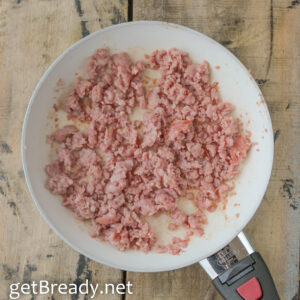 STEP 4: MAKE THE CAKE

Take the first sheet of phyllo dough and brush it with oil. Add the remaining sheets taking care to brush the pastry with oil before placing each new sheet.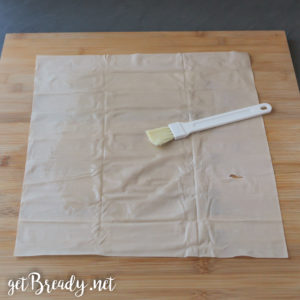 Line a baking tray with parchment paper brushed with oil and add the oiled phyllo dough sheets. Make sure that the outer edges of the pasta are also greased.
Spread a Layer of fresh cheese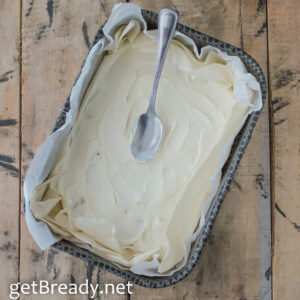 then add, alternating them, the strips of peppers and the potatoes.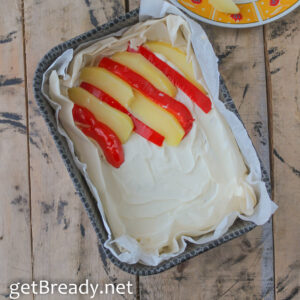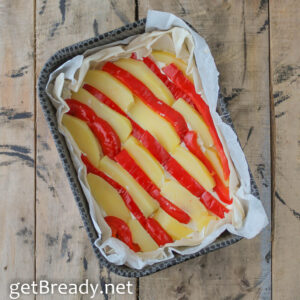 Finally add browned sausage, rosemary and a drizzle of oil.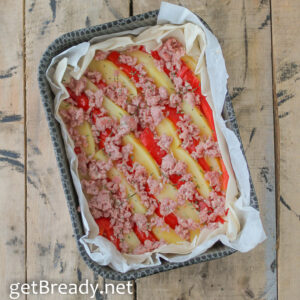 STEP 5: COOK
Bake the cake in preheated oven at 170C° until  the edges of the phyllo dough get golden brown (approx. 45 minutes).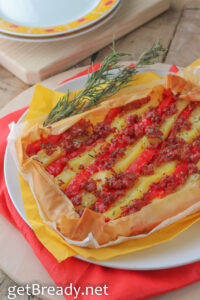 #getBready #enjoy your meal
Share on: