I was actually undecided whether to call it a soft fruit tart or simply a fresh fruit cake! Come on, who cares about the name? What matters is that the dessert is delicious!

And how can it not be a cake with a soft base filled with diced juicy strawberries and custard and decorated with the fruit you like best???

So, here's how I'll wish my mom a happy Mother's day: with a nice slice of cake!
MAKES 28 cm ROUND CAKE
READY IN 40'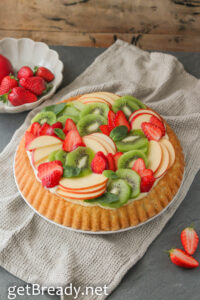 INGREDIENTS:
2 eggs
120 g sugar
60 ml milk *
50 g sunflower oil
150 g flour
30 g potato starch
1 teaspoon baking powder
Butter* to taste
Flour to taste
8,8 oz milk *
Vanilla extract to taste
Peel of ½ lemon
3 egg yolks
2,3 oz sugar
0,7 oz corn starch
about 20 strawberries
1 tablespoon sugar
1/2 lemon juice
1 red apple
2 kiwis
*choose lactose-free products and this recipe will also be excellent for lactose intolerant
STEP 1: MAKE THE CAKE

Beat the eggs together with sugar using electric whisks until clear and frothy.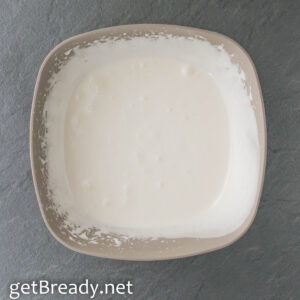 Gradually add milk, oil, flour, starch and yeast.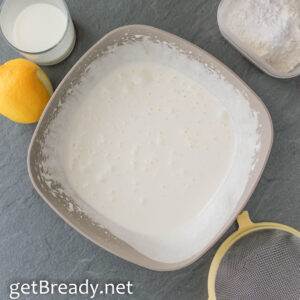 Grease and flour the tart mold,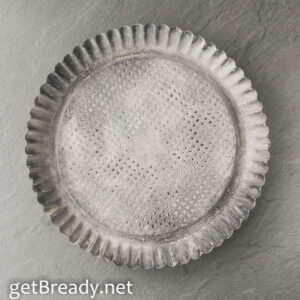 then pour in the mixture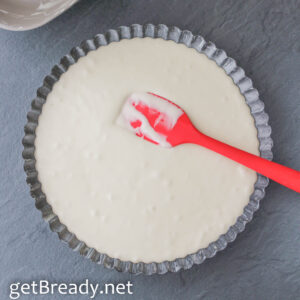 and cook in a preheated oven at 180°C for about 20 minutes.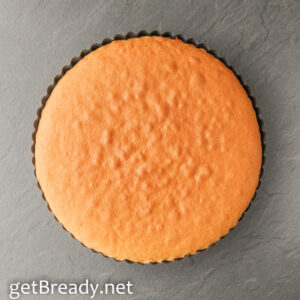 STEP 2: MAKE THE CUSTARD

Pour the milk into a brick and add vanilla and lemon peel. Turn the heat on and wait until boils.
Meanwhile, in a saucepan (off the heat), mix the egg yolks, sugar and starch with a whisk to get a smooth cream.
When the milk has reached a boil, strain it and add it to the cream of egg yolks, mixing with a whisk.
Now put the saucepan on the stove and continue stirring until it has thickened (in maximum 8-10 minutes it is ready).
STEP 3: SLICE

Wash and clean the strawberries Removing the leaves. Cut 4-5 of them into very small cubes and season with sugar and lemon in a bowl.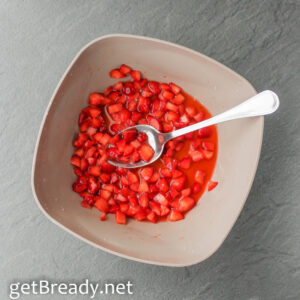 Cut the remaining strawberries into slices.
Wash the apple, remove the stalk and cut it into thin slices.
Peel the kiwis and cut them into slices.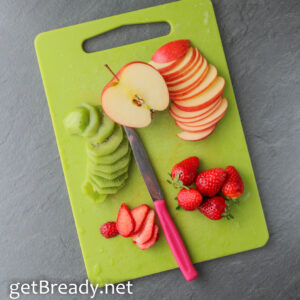 STEP 4: FILL THE CAKE

Take out the cake base by inverting it onto a plate.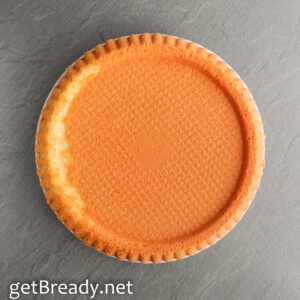 Distribute diced strawberries with their juice on the base.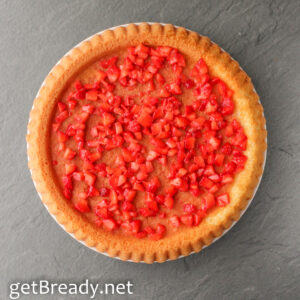 Cover with the custard.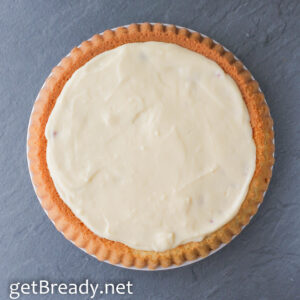 Decorate the cake with fruit: I suggest you start with one fruit at a time, slightly overlapping the slices and continue adding the others.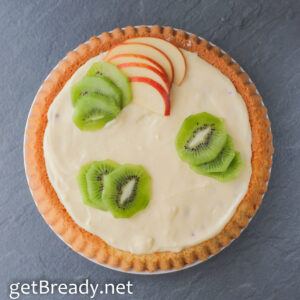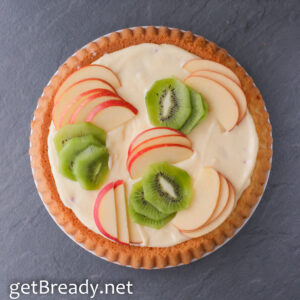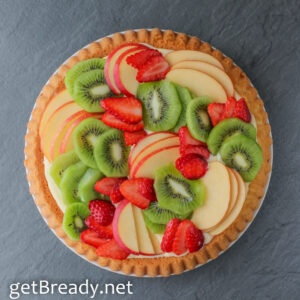 If you don't eat the cake during the day, I suggest you to brush  fruit with jelly following the instructions on the package and then put the cake in the fridge.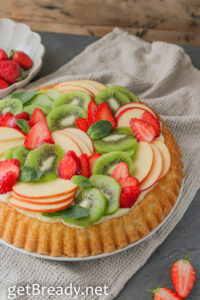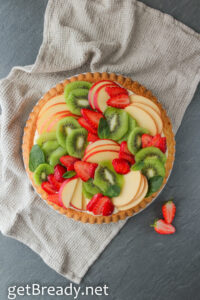 #getBready & enjoy your meal
Share on: