SERVES 4 PEOPLE
READY IN  25'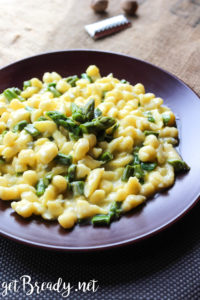 INGREDIENTS
3 eggs
½ cup water
9 oz all-purpose flour
½ oz extra virgin olive oil
Nutmeg and salt to taste
10 asparagus, boiled
1 tablespoon butter
2 tablespoons Gorgonzola (or blue cheese)
3 tablespoons milk
Salt to taste
 
STEP 1: MAKE THE DOUGH
In a bowl, beat well eggs and water. Add flour, oil, nutmeg and salt and mix until smooth.
STEP 2: LET IT STAND
Let the mixture stand for 20 minutes.
STEP 3:MAKE THE CHEESE SAUCE
Cut the asparagus in small pieces and let them sauté with butter. Add gorgonzola (or blue cheese), milt and salt to taste.
STEP 4: COOK THE SPATZLE
Cook the spatzle in boiling salted water for 2 minutes, pressing the dough through the spaetzle maker (or a large holed metal grater). Drain and add them at the cheese sauce.
#getBready & enjoy your meal
Share on: