MAKES ABOUT 15 ROLLS
READY IN 45'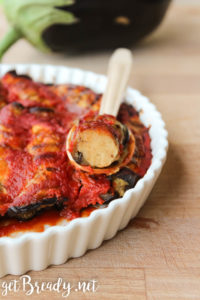 INGREDIENTS
1 cup tomato sauce
2 tablespoons extra virgin olive oil
2 leaves basil
1 pinch sugar
Salt to taste
1 aubergine, sliced
Oil to taste
2 slices bread
4 tablespoons milk
1 sausage
1 egg
2 tablespoons Parmesan cheese
2 tablespoons breadcrumbs
1 tablespoon all-purpose flour
Salt, pepper, marjoram to taste
1 tablespoon butter
STEP 1: MAKE THE TOMATO SAUCE
Place in a pan the tomato sauce, the oil, the basil and the sugar.  Let it simmer for about 10-15 minutes, then add salt.
STEP 2: GRILL THE AUBERGINE
Grill the aubergine slices quickly on both sides and dress with the extra virgin olive oil.
STEP 3: MAKE THE ROLL FILLING
In a blender, quickly mix the bread, the milk and the sausage. Then transfer the mixture into a bowl and add: egg, Parmesan cheese, breadcrumbs and all-purpose flour. Season with salt, pepper and marjoram.
STEP 4: ROLL THE ROLLS 😉
Place in the centre of each aubergine slice a teaspoon of filling and roll it up.
Spread a little of tomato sauce on the bottom of a oven pan, place the aubergine rolls and cover with other tomato sauce and finally with butter.
STEP 5: COOK THE ROLLS
Cook the rolls in preheated oven at 200°C for 25-30 minutes.
#getBready & enjoy your meal
Share on:
Salva
Salva