When winter's coming there's nothing better than a homemade strudel to feel the comfort of your home
SERVES 4 PEOPLE
READY IN 40 '(20 preparation, 20 cooking)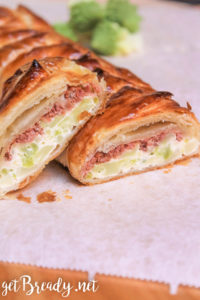 INGREDIENTS
1 romanesco broccoli, chopped
Water and cooking salt to taste
2 sausages
2 tablespoons ricotta cheese
1 tablespoon Parmesan cheese
Salt to taste
1 roll puff pastry , rectangular (I used Stuffer one)
3 tablespoons Parmesan or grana cheese
Salt and Pepper to taste
1 egg yolk
STEP 1: COOK THE BROCCOLI AND THE SAUSAGES
Cook the broccoli in boiling salted waterfor 10 minutes. Then drain and cut them into cubes.Sautè the sausages in a pan, and crumble them with a fork.
STEP 2: PREPARE THE FILLING
In a bowl mix thebroccoli, two tablespoons ricotta cheese, a tablespoon Parmesan cheese and salt. 
STEP 3: SHAPE THE STRUDEL
Divide the puff pastry into tworectangles.Roll them lightly with a rolling pin. Place in the centre of each rectangle the broccoli mixture and cover with the sausages.Cut on the right side and on the left side of the puff pastry some strips.Cross the pastry strips at the center of the strudel, directly on the filling.Brush  the top of the strudel with beaten egg yolk.
STEP 4: COOK THE STRUDEL
Cook for 20 minutes in preheated oven at 200 °C.
#getBready & enjoy your meal
Share on:
Salva
Salva
Salva
Salva
Salva