A yummy Christmas idea for your lunch or dinner! Only 4 ingredients and a few minutes to make a stunning appetizer!


-> To the bottom for the VIDEO! <-
MAKES 1 TREE
READY IN 25′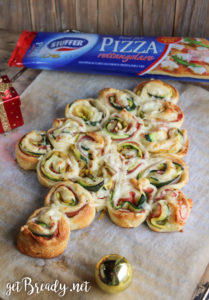 INGREDIENTS:
1 pizza dough sheet (I used Stuffer)
10 slices bacon
2 grilled zucchini
1 cup sliced cheese
STEP 1: FILL THE PIZZA DOUGH

Cover the pizza dough with bacon, then with zucchini and finally sprinkle the cheese on it.
STEP 2: ROLL AND CUT THE DOUGH

Roll the filled pizza dough and slice it.
STEP 3: SHAPE THE TREE AND COOK IT

Place the pizza slices on parchment paper and shape a tree. Sprinkle the tree with cheese and cook it in preheated oven at 200°C for 18 minutes.
A PIECE OF ADVIDE: Do you like appetizer recipes?  Click and take a look at the puff pastry flower! 😉
#getBready & enjoy your meal
Share on: