What could be nicer than warm muffins for breakfast? In my opinion this is one of the best recipes to bake chocolate muffins because they recall me home! Wanna try?
MAKES 15 MUFFINS
READY IN 30'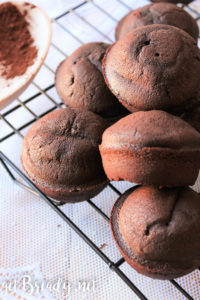 INGREDIENTS
7 oz all-purpose flour
3 oz unsweetened cocoa powder
1 teaspoon baking soda
1 pinch salt
5 oz butter at room temperature
6 oz sugar
2 eggs
½ glass cream + 2 tablespoons lemon juice
1 glass milk + 1 tablespoon lemon juice
Butter and cocoa for the muffin tin
STEP1: MIX DRY INGREDIENTS

In a bowl mix: all-purpose flour, cocoa, baking soda and salt.
STEP 2: MAKE THE MIXTURE
in another bowl, beat butter with sugar, then add eggs and cream + lemon juice. Add, little by little, the dry ingredients and the milk + lemon juice mixture.
STEP 3: PLACE THE MIXTURE INTO THE TIN

Drizzle some butter and then some cocoa powder into the muffin tin (remove the excess). Fill the muffin tin 3/4 full.
STEP 4: BAKE THE MUFFIN

Bake the muffin in preheated oven at 180°C for about 20 minutes.
#getBready & enjoy your meal
Share on: