Quick, easy and versatile! this sauce is the ideal solution to add flavor to your preparations! Creamy and gentle, it's perfect for cannelloni, pasta , lasagne, gnocchi…  and everything your can imagine!
17 oz  SAUCE
READY IN 20′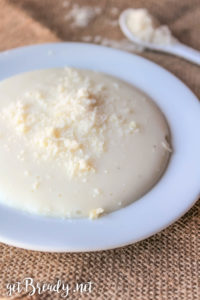 INGREDIENTS
2 oz butter
2 oz all- purpose flour
2 cups cold milk
Salt  to taste
4 tablespoons Parmesan cheese
STEP 1: MAKE THE ROUX
In a non-stick saucepan, melt the butter. Remove from heat and add the flour, stirring with a whisk until you'll get a golden cream.
STEP 2: ADD MILK
Put the pan on the fire and add  milk,  beating with a whisk to avoid lumps.
STEP 3: COOK
Add salt and Parmesan cheese and carry on cooking over low heat for 10 minutes. If it gets too firm you can add a little milk!
A PIECE OF ADVICE: you can try this recipe with other type of cheese too, for example blue cheese!
#getBready& enjoy your meal
Share on: