Its history belongs to a very little village called Cimego, a  fabulous place where blacksmiths, heretics and withces lived a very long time ago.

Cornflour, cheese, butter and chicory are the main ingredients of this traditional potion… oops! I mean recipe! Let's prepare it!

SERVES 5 PEOPLE
READY IN 50′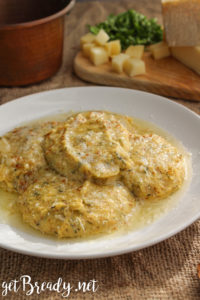 INGREDIENTS
2 US quart water
0,7 oz coarse salt
5 oz chicory, sliced
17,5 oz corn flour
10 oz cheese (I use "Spressa dop" and "Vezzena"), cubed
3 oz butter, melted
Grana cheese to taste
STEP 1: COOK THE CHICORY

Place the water in the cauldron (ora in a large pan) and let it boil. Add salt and chicory and let it cook for a couple of minutes.
STEP 2: ADD THE CORNFLOUR

Add, little by little, the cornflour to the cauldron and mix weel with a whisk to avoid lumps. Let it cook for about 40 min. whisking with a wooden spoon.
STEP 3: ADD CHEESE

Add cubed cheese little by little, and cook for 5 more minutes.
STEP 4: SEASON WITH BUTTER AND GRANA CHEESE

Deep a tablespoon into melted butter, then place 3 or 4 spoonfuls cornmeal mush in a dish, cover with Grana cheese and melted butter.
A PIECE OF ADVICE: Usually cornmeal mush is prepared in cauldron and cooked on a woodstove, but if you don't have it you can cook it in a large pan too.
#getBready & enjoy your meal
Share on: