Rich in taste and a bit different from the traditional Italian stew. A light version that recalls me the genuine and sunny farmer's life!
SERVES 3-4 PEOPLE
READY IN 45'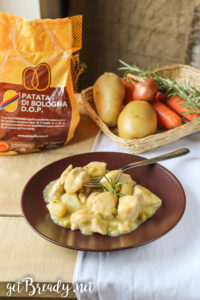 INGREDIENTS
3 tablespoons extra virgin olive oil
1 tablespoon celery, carrot, onion mince
Rosmary to taste
2 tablespoons frozen peas
1 potato, cubed
all-purpose flour to taste
1 checken breast, cubed
¼ glass white wine
1 o 2 cups hot water
Salt and pepper to taste
STEP 1: COOK THE VEGETABLES
Place oil and minced vegetables in a pan and let them brown. Add rosemary, peas and potatoes and cook for  3-4- minutes.
STEP 2: ADD THE MEAT
Lightly flour the chicken, then add it to the pan. Make sure to have a strong heat until it gets golden, then simmer with wine.
STEP 3: LET THE CHICKEN COOK
Add salt and pepper and cook the chicken over low heat for about 35 minutes adding – little by little – 1 or 2 cups of hot water.
#getBready & enjoy your meal
Share on: