When you feel the cold inside there's only one thing you should do: have a dish of this!
SERVES 4 PEOPLE
READY IN 1 h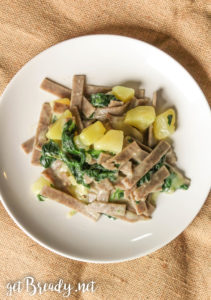 INGREDIENTS
12 oz buckwheat flour
4 1/2 oz all-purpose flour
7 oz spinach (or savoy cabbage)
9 oz potatoeas, peeled and cubed (ab. 1,5×1,5 cm)
9 oz Casera cheese (or Fontina cheese)
5 tablespoons Grana cheese, grated
7 oz butter, melted
STEP 1: MAKE THE DOUGH
In a bowl,  mix  buckwheat and all-purpose flour with water. Knead until you get a ball. Let it rest into the fridge covered with plastic wrap.
STEP 2: CUT LITTLE TAGLIATELLE (=PIZZOCCHERI)
Roll out the dough on a lightly floured surface 2 mm thin and cut 8x 0,5 cm strings.
STEP 3: COOK PIZZOCCHERI AND VEGETABLES
In boiling salted water cook spinach and potatoes, after 5 minutes add pasta and cook for other 10 minutes.
STEP 4: ADD BUTTER AND CHEESE
Drain pizzoccheri and vegetables and place them in a bowl adding cheese and butter.
A PIECE OF ADVICE: this is a very tasty but also a hearty meal! i suggest you to end it with a refreshing Tangeringe sorbet, click and read the recipe!
#getBready & enjoy your meal
Share on: