My source of happyness is made of mozzarella: crunchy outside and string in the center! Here is a very quick and easy appetizer recipe, so tasty that you can't resist.

MAKES 15 BITES
READY IN '15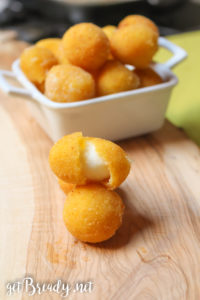 INGREDIENTS
3 tablespoons breadcrumbs
salt and pepper to taste
1 tablespoon Parmesan cheese
15 mozzarella bites
1 egg, beaten
frying oil to taste
STEP 1: MIX THE BREADCRUMBS

In  a bowl mix breadcrumbs with Parmesan cheese, salt and pepper.
STEP 2: BREAD THE BITES

Dry the mozzarella bites with kitchen paper, then deep them in beaten egg and then in breadcrumbs mixture. Do the same for 2 other times to make them crunchy.
STEP 3: FRY

Fry mozzarella bites in hot oil just for 1 minute.
A PIECE OF ADVICE: If you like it, you can add some chilli powder to the breadcrumb mixture for a different savory taste.

#getBready & enjoy your meal
Share on: