He always wants spinach, I always want pies….  We should find a compromise… and here it is! A delicious (and healthy) spinach and ricotta cheese pie!

SERVES 4 PEOPLE
READY IN 50′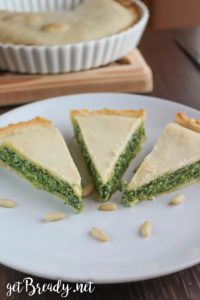 INGREDIENTS
Hot water  (about 3-4 cups)
coarse salt to taste
6-7 cubes frozen spinach
1 teaspoon butter
2 tablespoons pine nuts
1 tablespoon Parmesan cheese
1 cup Ricotta cheese
1 egg
2 tablespoons Parmesan cheese
salt and pepper to taste
1  dough ball ( click for the recipe)
all-purpose flour to taste
seed oil to taste
STEP 1: COOK THE SPINACH

Cook spinach in boiling salted water for 15 minutes, then drain them and put them in a pot with butter. Let them cook for 2-3 minutes adding pine nuts and Parmesan cheese.
STEP 2:COMPLETE THE FILLING

Place cooked spinach in a bowl and add: Ricotta cheese, egg, Parmesan cheese, salt and pepper. Mix well.
STEP 3: ROLL THE DOUGH

Cut the dungh into two pieces. Roll out each of them to get thin sheets.
STEP 4: PLACE INTO THE CAKE TIN

Brush the cake tin with oil, then place the first dough sheet on it. Cover it with the filling, then close with the second dough sheet (close the edges well). Brush the surface of the pie with some oil.
STEP 5: COOK
Cook the pie in preheated oven at 200°C for about 30 minutes (until golden)
#getBready & enjoy your meal
Share on: