I think meat + tomato sauce is a real gluttony: so tender and juicy!  Here is my homemade way to cook carpaccio (that is usually raw food) with cherry tomatoes, cheese and ham. Wanna try?
SERVES 4 PEOPLE
READY IN 40′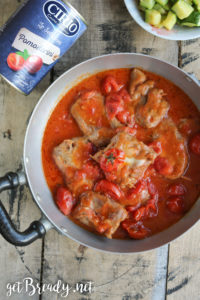 INGREDIENTS
20 beef carpaccio slices
salt and pepper to taste
10 ham slices
cheese to taste
all-purpose flour to taste
4 tablespoons extra virgin olive oil
1 teaspoon onion, chopped
1/4 glass white wine, dry
1 Cirio cherry tomatoes can
1 teaspoon habanero oil
salt to taste
1/2 glass hot water
STEP 1: MAKE THE DUMPLINGS

Place a bit salt and pepper on each carpaccio slice, then fill them with ham and cheese. Now close each carpaccio slice as a package (if you prefer you can close them with toothpicks).
STEP 2: LET BROWN

Sprinkle the meat dumplings with all-purpose flour, then let them brown in a pan with oil and onion (it takes about 2-3 minutes).
STEP 3: ADD THE REMAINING INGREDIENTS

Simmer with white wine until reduced, then add cherry tomamotes, habanero oil, salt and hot water and let it cook for 30 minutes.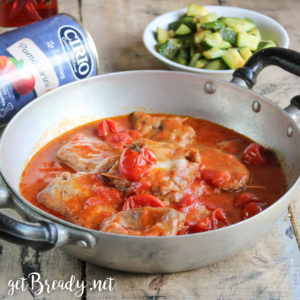 #getBready &enjoy your meal
Share on: