Well, maybe it's because of chicken is so tender, or maybe it's because lemon it's so fresh but chicken+lemon it's one of my favorite couples. Here is the recipe to make a very creamy and tasty risotto!
SERVES 4 PEOPLE
READY IN 35'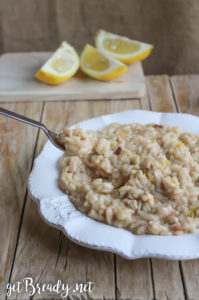 INGREDIENTS
1 tablespoon onion + celery + carrot, minced
2 tablespoons extra virgin olive oil
Rosemary to taste
3 chicken slices
9 oz Carnaroli rice
¼ glas white wine,dry
1 US quart vegetable broth
1-2 teaspoons vegetable bouillon cube
1 teaspoon butter
1/2 lemon zest
STEP 1: SAUTÉ THE CHICKEN
Put in a frying pan onion, celery, carrot, oil and rosemary. Add sliced chicken (cubed) and cook for 5-10 minutes, until brown.
STEP 2: COOK THE RICE
Add the rice and toast it. Add the white wine, and stir continually over medium heat until it is absorbed. Add a ladle of broth and cook over medium heat (it must boil) for 15-20 minutes, occasionally adding a ladle of broth (or whenever the rice tends to dry) and vegetable buoillon cube.
Before turning the fire off taste the risotto to check the flavor and  if  necessary add salt.
STEP 3: MAKE IT CREAMY
Remove from  heat and add butter and lemon zest. Mix slowly and bring to the table.
A PIECE OF ADVICE: If you like you can also add 1/2 lemon to the broth to make it more aromatic.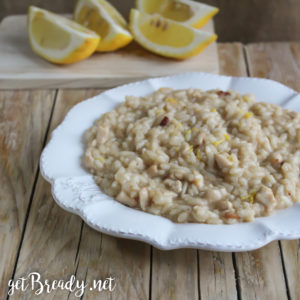 #getBready & enjoy your meal
Share on: