Have you ever tried roasted chicken for your filling? I really love it!! I'm used to make it even for canelloni. So let's prepare it for a delicious appetizer!

MAKES AB. 12 BITES
READY IN 30'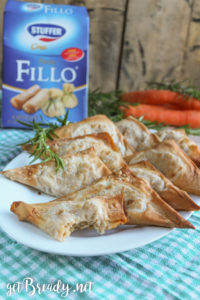 INGREDIENTS
3 chicken slices
1 carrot
fresh rosemary to taste
1 teaspoon onion, chopped
1/2 teaspoon lemon zest
3 tablespoons extra virgin olive oil
¼ glass white wine
½ glass hot water
Salt and pepper to taste
1 tablespoon all-purpose flour
1 tablespoon butter
1 glass milk
Salt and nutmeg to taste
1 phyllo pastry package  (I used Stuffer)
Oil to taste
STEP 1: CUT THE INGREDIENTS

Using a knife, cut the chicken slices, the carrot and the rosemary. Grate onion and lemon zest.
STEP 2: COOK THE CHICKEN

Place onion and oil in a pan and let it sautè until golden.Add carrot and rosemary and cook for a couple of minutes, then add cubed chicken and cook until brown. Simmer with white wine until reduced, then add lemon zest, water salt and pepper and cook for other 6-7 minutes.
STEP 3: MAKE THE BECHAMEL SAUCE

Melt butter in a pan, then add all-purpose flour and wish well to get a golden batter. Add, little by little, milk, then salt and nutmeg to taste. Cook it for 10 minutes then turn the heat down.
STEP 4: COMPLETE THE FILLING

In a bowl combine roasted chicken with béchamel sauce.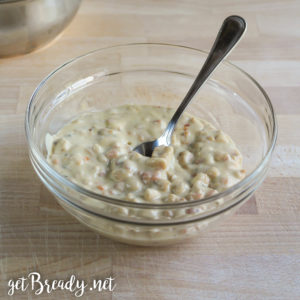 STEP 5: CUT AND FILL PHYLLO PASTRY
In my phyllo pastry package there are 4 sheets: slice each of them in 3 strips, place a ladle of filling at the bottom, then close it forming a triangle.
With 4 sheets you'll get 12 trianges (I am aware my English isn't so good, but I think the pictures will help you understanding what to do! :-)).
STEP 6: COOK
Place the triangles on a parchment paper sheet , brush with oil and cook them in preheated oven at 200°C for 10-12 minutes.
#getBready & enjoy your meal
Share on: