Sumer will be over soon, so let's prepare something tasty with delicious fresh raspberries! Here is my recipe for a yummy cheesecake made with fruit sauce and integral biscuits!
SERVES 8 PEOPLE
READY IN 1h 35 '(10' preparation, 30 'stand, 55' cooking) + stand in the fridge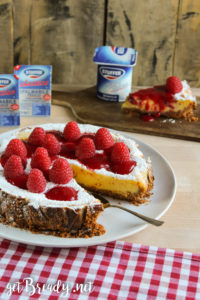 INGREDIENTS
11 oz biscuits
3 oz butter, melted
1 teaspoon honey
7 oz cream cheese (I used Stuffer)
9 oz Ricotta cheese
7 oz sugar
5 oz fresh cream
1 ½ oz yoghurt (I used Stuffer)
2 eggs
Vanilla extract to taste
1 teaspoon all-purpose flour
Ab 10 rasberries
9 oz raspberries
2 tablespoons sugar
Confectioner's sugar to taste
STEP 1: PREPARE THE CRUST
Place the biscuits into the mixer and chop until minced. Transfer them into a bowl adding butter and honey.
STEP 2: PLACE IT INTO THE BAKING TIN
Transfer the mixture into the springform pan (with baking parchment paper) and use the bottom of a glass (or your fingers)to press it evenly into the bottom and on the sides.
Let it rest for half an hour in the fridge.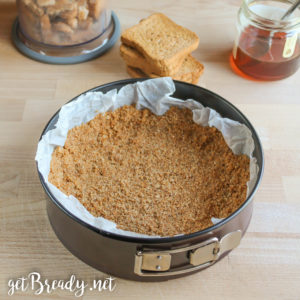 STEP 3: PREPARE THE FILLING
In a separate bowl, mix the cheese, the sugar, the fresh cream, the yoghurt, the eggs, the flour and the vanilla extract.
STEP 4: FILL AND COOK THE CAKE
Cover the cookie crust with the filling, level it, add about 10 raspberries and cook for 1 hour in preheated oven at 160 °C.
STEP 5: MAKE THE SAUCE
Wash raspberries, slice them and place them in a non-stick pan with sugar. Let cook for about 10-12 minutes (until sugar gets melted). Now strain the sauce with a sieve and let it cool.
STEP 6: DECORE
When cold, sprinkle the cake with confectioner's sugar and decore with rasperries sauce and fresh raspberries.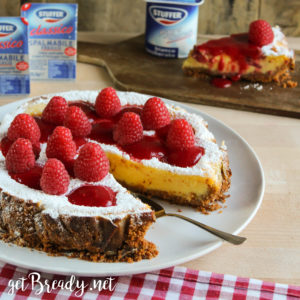 #getBready & enjoy your meal
Share on: