There are thousand of lemon cakes but this is something special! Thanks to the creamy filling, this is the ideal breakfast cake!

SERVES 6 PEOPLE
READY IN 1h 20'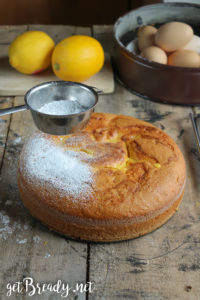 INGREDIENTS
1 egg yolk
3 oz sugar
1 tablespoon potato flour
1 cup milk
1 lemon: zest + juice
3 eggs
4 1/2 oz sugar
3 oz seed oil
1 tablespoon milk
1 lemon: zest + juice
7 oz all-purpose flour
1 teaspoon baking powder
STEP 1: PMAKE THE CREAM

In a bowl beatthe egg yolk with the sugar. Add – little by little – the potato flour and mix carefully.
Warme the milk unitl hot, then add it to the bowl. Finally add lemon juice and zest and mix.
STEP 2: COOK THE CREAM

Place the cream in a pan and cook it for 3-4 minutes, then take off, cover the cream with clingfilm and put aside.
STEP 3: MAKE THE CAKE

In another bowl, beat eggs and sugar until frothy. Add . little by little – oil and milk, then lemon zest and juice. Add – one spoon at a time – flour and baking powder – and mix to get a smooth mixture.
STEP 4: PLACE IT INTO THE CAKE TIN

Brush the cake tin with butter, then sprinkle with flour. Pour the cake mixture into the baking tin, then add spoonfuls of lemon cream prepared on step 2 on it and mix the two mixtures with a toothpick.
STEP 5: COOK
Cook the cake in preheated oven at  170°C for 50 minutes.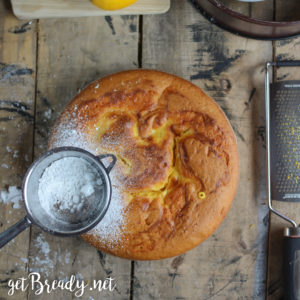 #getBready & enjoy your meal
Share on: