It seems like classical meringue, but it isn't. Try to guess what is inside it! A delicious choco- surprise, only for those who can't live without cocoa.
MAKES AB. 30 BITES
READY IN 2h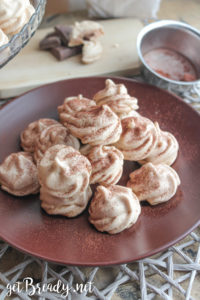 INGREDIENTS
2 egg whites
2,5 tablespoons  confectioner's sugar
Vanilla extract to taste
2,5 tablespoons confectioner's sugar
1 teaspoon cocoa
Chocolate to taste
STEP 1: WHISK THE EGGS
In a bowl whisk egg whites to soft peaks. After 3-4 minutes add the confectioner's sugar and vanilla extract. Carry on whisking for 5 more minutes.
STEP 2: ADD THE OTHER INGREDIENTS
Add the remaining confectioner's sugar (little by little) and the cocoa powder while mixing carefully with a spatula.
STEP 3: SHAPE THE MERINGUES
Line a baking sheet with parchment paper. Place on the sheet chocolate cubes, then  – using a piping bag  – squeeze the meringue on each of them to create little mountains (equally spaced).
STEP 4: COOK THE MERINGUES
Cook in preheated oven at 100°C for 1h 45'minutes.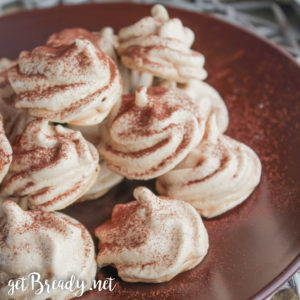 #getBready & enjoy your meal
Share on: