Are you looking for a creamy idea that everybody loves (even kids!)? Here it is: soft chicken cannelloni! You can make it the day before and cook the day after, and the result is a real creamy gluttony.
SERVES 4-5 PEOPLE
READY IN 1h
INGREDIENTS
1 chicken breast (a big one)
1 carrot
1  celery stick
½ white onion
3-4 tablespoons extra virgin olive oil
rosemary  chopped to taste
¼ glass white wine, dry
1 cup hot water
salt and pepper to taste
2 cups béchamel sauce (click for the recipe)
1 packaging fresh pasta sheets (I used sfogliavelo Rana)
2-3 cups béchamel sauce
1 tablespoon Parmesan cheese
butter to taste
STEP 1: CUT THE INGREDIENTS
Cut the chicken into cubes removing bones.
Peel the carrot and chop it, do the same with onion and celery.
STEP 2: BROWN THE CHICKEN
Place oil, vegetables and rosemary in a non-stick pan and let sautè for 3-4 minutes.  Add now the chicken cubes and let them brown (it'll take ab 8-10 minutes).
STEP 3: COOK
Simmer with white wine until reduced, then add water salt, pepper and cook for ab. 20 minutes covered with a lid.
STEP 4: COMPLETE THE FILLING
Place cooked chicken in a bowl  (set aside 2 tablespoons for the decoration) and add bèchamel sauce.
STEP 5: MAKE PASTA SOFT
Place hot water in a bowl and deep pasta sheets into it (one at a time) for 5 seconds, then drain and place them on a kitchen towel.
STEP 6: FILL CANNELLONI
Place one spoonful of filling in the centre of each pasta sheet, then roll it and place it in a baking tin  brushed with bechamel sauce.
Finally cover cannelloni with bechamel sauce, sprinkle with Parmesan cheese, butter and decore with roasted chicken prepared on step 4.
STEP 7: COOK
Cook cannelloni in preheated oven at 180°c  for 20 minutes.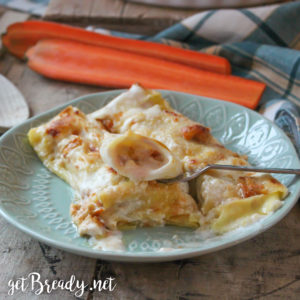 #getBready & enjoy your meal
Share on: