If you love italian food bèchamel is a must! In Italy we use it for lasagna, cannelloni but also to fill typical sicilain rice balls ( "arancine") and other delicious appetizers! Let's prepare it:
17 oz  SAUCE
READY IN 20′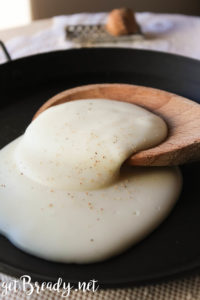 INGREDIENTS
2 oz butter
2 oz all- purpose flour
2 cups cold milk
Salt and nutmeg to taste
STEP 1: MAKE THE ROUX
In a non-stick saucepan, melt the butter. Remove from heat and add the flour, stirring with a whisk until you'll get a golden cream.
STEP 2: ADD THE MILK
Put the pan on the fire and add the milk,  beating with a whisk to avoid lumps. Add salt and nutmeg to taste.
STEP 3: COOK
Carry on cooking over low heat for 10 minutes. If it gets too firm you can add a little milk!
#getBready& enjoy your meal
Share on
Salva
Salva
Salva
Salva
Salva