No, this isn't a simply but a delicious chilwood memory. When it's so cold outside, i feel like something warm. This is a recipe to make an express yummy soup made of Parmesan and lemon flavor. Just a cuddle!
SERVES 5 PEOPLE
READY IN 12'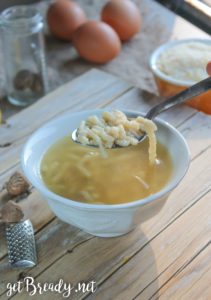 INGREDIENTS
4  1/2 oz breadcrumbs
5 oz Parmesan cheese
1 pinch lemon zest, grated
2 eggs
Salt and nutmeg to taste
Broth to taste
STEP 1: MAKE THE DOUGH

Place in a bowl: breadcrumbs, Parmesan, lemon zest, eggs, 1 pinch salt and nutmeg and knead by hand.
STEP 2: MAKE "PASSATELLI"

Boil the broth. In the meantime – using the passatelli tool  (similar to a potato masher) press the dough to make passatelli.
STEP 3: COOK
Dip passatelli into the broth and boil for 2-3 minutes.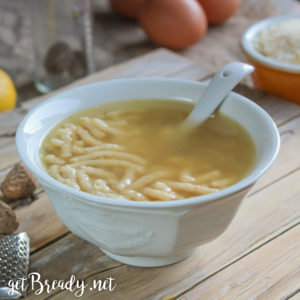 #getBready & enjoy your meal
Share on: