Oh no, that's not a simply kids menu! if you don't know what spätzle is I will immediately show you! Small, spinach gnocchi made of flour and eggs combined with cream and Italian speck.

Very easy to prepare, delicious and so quick that you can't wait longer: let's prepare it!
SERVES 4 PEOPLE
READY IN '20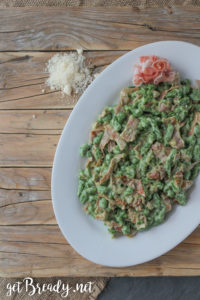 INGREDIENTS
7 oz boiled spinach
1/3 glass water
2 eggs
salt and nutmeg to taste
9 oz all-purpose flour
1 teaspoon butter
4 slices peck (cut into strips)
2-3 tablespoons cooking cream
Water and coarse salt to taste
2 tablespoons Parmesan cheese
STEP 1: BLEND
Put into the mixer: spinach, eggs, water, salt and nutmeg and blend for 30 seconds.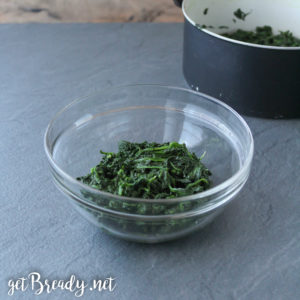 STEP 2: ADD THE FLOUR

Add the flour and carry on blending for 1 minute. Place the mixture in a bowl and let it rest for 15 minutes.
STEP 3: MAKE THE SAUCE

Melt the butter into a non-stick pan, then add sliced speck and let brown for a minute. Turn the heat off and add the cream.
STEP 4: COOK "SPATZLE"
Boil water and add salt. Now, using the specific tool, place spoonfuls of mixture into the white box and move it back and forth to make spätzle fall into the water.
Spätzle will be ready 1 minute after they coming out.
Drain spätzle and place them into the sauce pan. Mix carefully and sprinkle with cheese.
#getBready & enjoy your meal
Share on: