You know, gourmet food is not for everybody… Actually I really prefer a soft, fluffy and great-tasting pizza! For a brunch, a party but a romantic dinner too, pizza can satisfy everyone.

I suggest you to try it with Mortadella and pistachio: a very good mariage 😉

SERVES 2-4 PEOPLE
READY IN 12h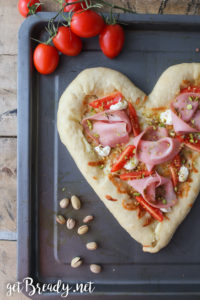 INGREDIENTS
1 lb all-purpose flour
½ oz salt
1 cup warm water
½ oz  brewer's yeast  dissolved into 2 tablespoons warm water
2 tablespoons extra virgin olive oil
extra virgin olive oil to taste
3 tablespoons Robiola cheese (fresh cheese)
1-2 mozzarella
scamorza affumicata cheese to taste
oli and salt to taste
5-6 cherry tomatoes
4-5 slices Mortadella
2-3 tablespoons chopped pistachio
STEP 1: MAKE THE DOUGH

In a bowl, place the flour, the salt and ¾ cup warm water. Mix with a fork. Add the brewer's yeast  dissolved into 2 tablespoons warm water, the oil and the remaining water until you get a wet mixture.
Put some flour on the pastry board. Then place the mixture in the centre and knead it quickly by hand. 

Place the dough in a bowl and massage it with a little olive oil. Cover the bowl with cling film and let it stand at room temperature for 10 minutes. After that, put the bowl into the fridge for 10-12 hours.
3-4 hours before using, remove the bowl from the fridge and let it stand at room temperature (for 3 or 4 hours).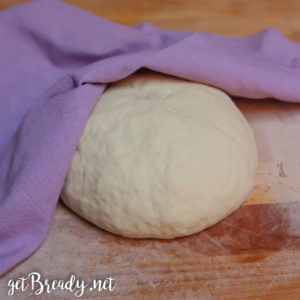 STEP 2: ROLL OUT THE DOUGH

Put some oil on the baking sheet, then roll out the dough with your fingers and lift it onto the baking sheet. Try to shape a heart (I cut a triangle in the superior part for a more realistic shape).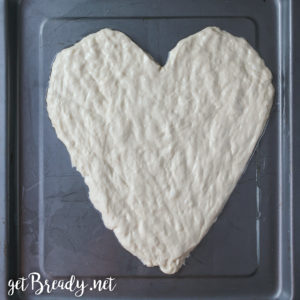 STEP 3: FILL THE BORDER

Place Robiola cheese in a bowl and beat it with a fork to make it softer. Now place Robiola in a pastry bag and squeeze it on the dough to get a heart. cover the Robiola heart with the pizza dough and close well pressing with your fingers.
STEP 4: ADD INGREDIENTS AND COOK

Place some oil in the centre of the heart, then add mozzarella and scamorza cheese. Sprinkle with salt and cook pizza in preheated oven at 250°C for 18-20 minutes.
STEP 5: ADD FRESH INGREDIENTS

When cooked, add: sliced cherry tomatoes, Mortadella slices and sprinkle with chopped pistachio.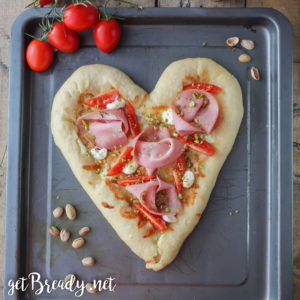 #getBready & enoy your meal
Share on: