Actually I'm not a soup-fan but this is an exception! Creamy, velvet and spicy: a real dream! "Pasta e fagioli" that sounds like "pasta and beans" is a typical Italian soup and it recalls me my childhood winter dinners. It wasn't a sacrifice to clean my plate.


SERVES 4 PEOPLE
READY IN 50′
INGREDIENTS
2 tablespoons chopped onion, carrot, celery mix
2 tablespoons extra irgin olive oil
4-5 tablespoons fresh pinto beans
1 can ready to use pinto bean (steamed)
1 carrot
1 US quart hot water
1 teaspoon vegetable stock powder (here my recipe)
pepper to taste
5 oz "ditalini" (pasta for soup)
STEP 1: SAUTE'

Place chopped vegetables in a pan with oil and let golden for a couple of minutes. First add fresh beans, then steamed ones and cook for 2 more minutes.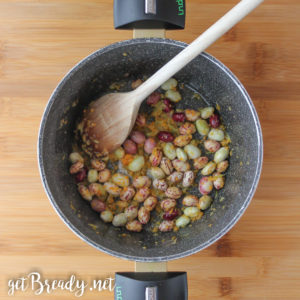 STEP 2: ADD CARROT

Peel and cube one carrot and add it to the pan.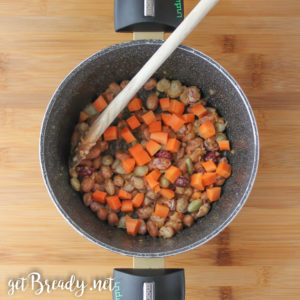 STEP 3: ADD WATER

Add hot water and cook for 30-40 minutes covered with a lid. Add vegetable stock powder and pepper to taste.
STEP 4: COOK PASTA

Add ditalini pasta and cook for 10 more minutes (make sure the soup it's liquid enough or add some more water ).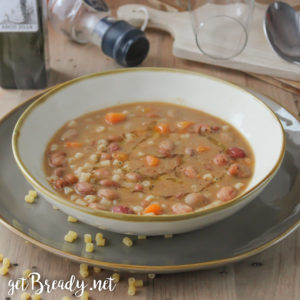 #getBready & enjoy your meal
Share on: