Spring's here! I feel like cooking something colorful and fragrant!

Today's recipe is a gluttony: crunchy crust stuffed with coconut cream and covered with  delicious  strawberry and raspberry sauce. This is a must!

MAKES 8-9 LITTLE PIES
READY IN 30'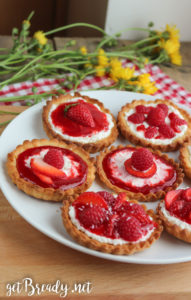 INGREDIENTS
9 oz fresh strawberries and raspberries
3-4 tablespoons sugar
Butter and all-purpose flour to taste
1 sweet pastry sheet (I used Stuffer's)
5 oz Greek yougurt (I used Stuffer's)
4 1/2 oz fresh cheese (I used Stuffer's)
2 oz Ricotta cheese
2 oz coconut flakes
1 tablespoon confectioner's sugar
1 tablespoon milk
4-5 strawberries /raspberries to decore
mint leaves
STEP 1: COOK STRAWBERRY AND RASPBERRY SAUCE

Wash the fruit, then slice it and put it in a pan together with sugar. let cook for  10-12 minutes on low heat. Now using a small colander remove the small seeds and let the sauce rest.
STEP 2: MAKE THE CRUST

Bruch the pie molds with butter, the sprinkle with all-purpose flour (remove the surplus).
Cut the sweet pastry sheet into 8-9 circles, then pleace then into the pie molds pressing well. With a fork make some holes on the pastry and cook for about 8 minutes at 200°C.
STEP 3:MAKE THE COCONUT CREAM

Mix in a bowl: Greek yougurt, fresh cheese, Ricotta cheese, coconut flakes, sugar and milk.
STEP 4: FILL AND DECORE

When cold, fill the crust with coconut cream prepared on step 3, then cover with strawberry and raspberry sauce prepared on step 1. Finally add some strawberries, raspberries and mint leaves for decoration.
#getBready & enjoy your meal
Share on: