Every time spring comes  I cannot help but cook asparagus in thousand ways.

Ideals for delicious starters, side dishes or even for pie filling. Today I feel like having a creamy risotto with saffron and guess what…? 🙂

SERVES 4 PEOPLE
READY IN 35′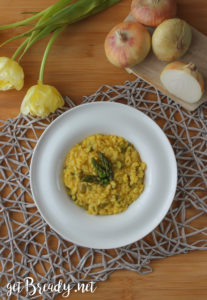 INGREDIENTS
6-8 fresh asparagus
1 carrot
1/2 onion
1/2 celery stick
1 tablespoon vegetable stock powder (here the recipe)
2 US quart water
1 teaspoon onion, chopped
2 tablespoons extra virgin olive oil
9 oz Carnaroli rice
¼ glas white wine,dry
1 US quart vegetable broth
vegetable bouillon cube if necessary
1/2 teaspoon saffron powder
1 teaspoon butter
1 tablespoon Parmesan cheese
STEP 1: CUT THE ASPARAGUS

Peel the base part of the asparagus with a potato peeler.
With a knife cut off the bottom part of the asparagus (ab. 3-4 cm)  (it'll be useful of the broth) ; cut the remaining part of the asparagus 1/2 cm thin.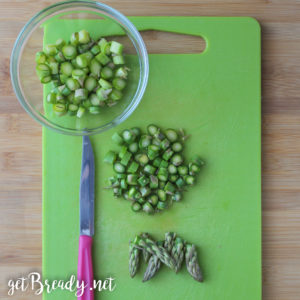 STEP 2: MAKE THE BROTH

Peel the carrot, the onion and place them in a pan with water, celery and the bottom part of the asparagus. Add vegetable stock powder and let boil.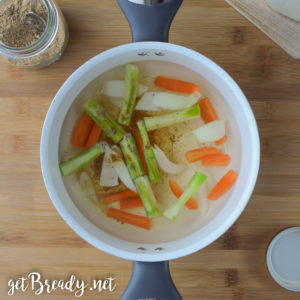 STEP 3: SAUTE'
Put in a frying pan onion and oil. Add the asparaus pieces and cook for 5-10 minutes.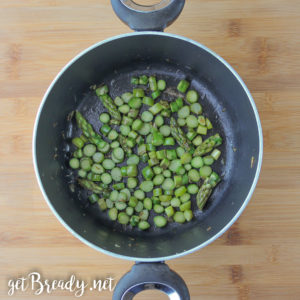 STEP 4: COOK THE RICE

Add the rice and toast it. Add the white wine, and stir continually over medium heat until it is absorbed. Add a ladle of broth and cook over medium heat (it must boil) for 15-20 minutes, occasionally adding a ladle of broth (or whenever the rice tends to dry) and vegetable buoillon cube.
Before turning the fire off taste the risotto to check the flavor and  if  necessary add more vegetable stock powder.
STEP 5: ADD SAFFRON AND MAKE THE RISOTTO CREAMY

Mel the safron powder in a glass with two tablespoons of broth. Add it to risotto and mix carefully.
Turn the heat off and add butter and Parmesan cheese, mix and serve.
#getBready & enjoy your meal
Share on: