Its original name is "Colomba" that is the dove and it's the most traditional Italian Easter sweet.

… As you know I really prefer savory pie so I decided to make my version of Colomba using cheese and ham. Very fluffy and absolutely delicious! Don't miss the chance to bring an Italian dish on the table this Easter time!
MAKES 1 CAKE
READY IN 4h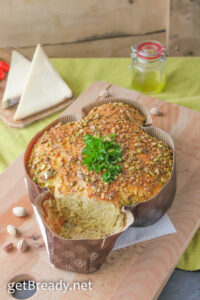 INGREDIENTS:
1/2 cup lukewarm milk
1/2 cupwater
1 pinch brewer's yeast
9 oz Manitoba flour
7 oz 00 flour
1 egg
2 tablespoons extra virgin olive oil
salt to taste
2 tablespoons Parmesan cheese
2-3 tablesppon cheese, sliced
4-5 ham slices (minced)
1 tablespoon chopped parsley
2 tablespoons pistachios, chopped
1 egg yolk + 1 tablespoon water (to brush)
STEP 1: MIX THE LIQUID

Put milk, water and yeast in a bowl and mix with a fork to make the yeast melt.
STEP 2: ADD THE DRY INGREDIENTS

You can decide if:
knead by hand, add the ingredients one at the time and mixing with a fork first and then by hand;
use a kneading machine;
In any case, add to the mixture prepared on step 1 : the two types of flour, the egg, the oil and finally the salt.
STEP 3: KNEAD

Now add Parmesan cheese, sliced cheese, ham and parsley and mix.
STEP 4: LET REST

Place the dough in a bowl, cover with clingfilm and let it rest for a couple of hours ( you can also put the bowl into the fridge and let the dough rise there all night long. The day after, 3-4 hours before using, remove the bowl from the fridge and let it stand at room temperature ).
STEP 5: PLACE INTO THE MOLD

Divide the dough into three pieces, one bigger than the other two.
Place the bigger piece in the centre of the mold and the other two on the sides.
Brush the superface with egg yolk + water and sprinkle with pistachos.
STEP 6: SECOND RISING

Place the dough into the oven (make sure it's off!) and let it rise for another hour.
STEP 7: COOK
Cook the colomba cake in preheated oven at 170°C for ab. 35 minutes.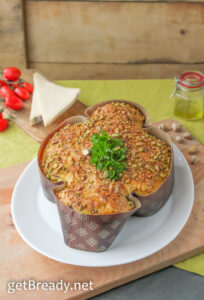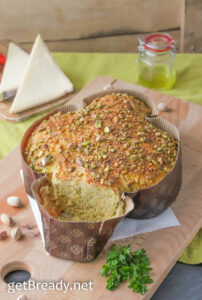 #getBready & enjoy your meal
Sahre on: