Special moments deserve to be celebrated.

This is the reason why, for Mother's Day, I suggest you a fresh and delicious recipe that you can cook in short time. Today is better to spend time together rather than cooking!

MAKES 12 BITES
READY IN 30'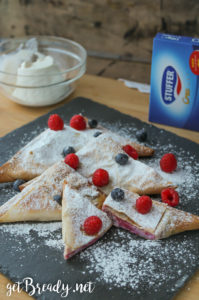 INGREDIENTS
3 tablespoons Ricotta cheese
1 tablespoon confectioner's sugar
1 cup fresh blueberries and raspberries
1 phyllo pastry package (I used Stuffer)
seed oil to taste
confectioner's sugar to taste
STEP 1: MAKE THE FILLING

Mix together: Ricotta cheese, confectioner's sugar, blueberries and rasperries (save 5-8 pieces for decoration).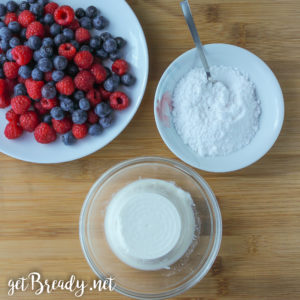 STEP 2: CUT AND FILL PHYLLO PASTRY

In my phyllo pastry package there are 4 sheets: slice each of them in 3 strips, brush them with oil,  place a ladle of filling at the bottom, then close it forming a triangle.
With 4 sheets you'll get 12 trianges (I am aware my English isn't so good, but I think the pictures will help you understanding what to do! :-)).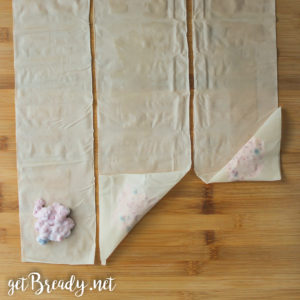 STEP 6: COOK
Place the triangles on a parchment paper sheet , brush with oil and cook them in preheated oven at 200°C for 10-12 minutes.
When cold, sprinkle with some confectioner's sugar.
#getBready & enjoy your meal
Share on: