Favignana island recalls me tender eggplants and their delicious taste. A few years ago I went there on holiday and I had the chance to eat local food. It was great!

Thanks to that experience today we're having an fried eggplant calzone pizza, fabulous!
MAKES 1 CALZONE
READY IN 30'
INGREDIENTS
1 eggplant
2 tablespoons all-purpose flour
frying oil to taste
1 pizza dough (I used Stuffer)
3 tablespoons mashed tomatoes
2 pinch salt
1 mozzarella
smoked cheese to taste, chopped
4 slices ham
oregano and oil to taste
1 teaspoon milk
sesame seeds to taste
STEP 1: FRY THE EGGPLANT
Cut the eggplant into cubes, then sprinkle with flour and fry them in deep hot oil for 3-4- minutes.
When golden drain them and place on kitchen paper.
STEP 2: FILL THE DOUGH
Rool out the pizza dough and spread mashed tomatoes on half side. Season with salt.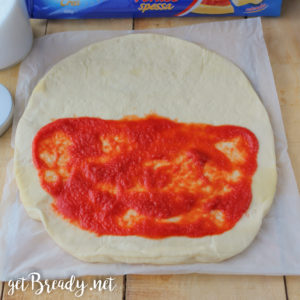 Fill the dough with mozzarella, smoked cheese,ham, fried eggplant and season with oil and oregano.
STEP 3: CLOSE
Carefully close the dough  and press well the border. If you like you can twist the border.
Brush the surface with milk and sprinkle with sesame seeds.
STEP 4: COOK
Place calzone on a baking tray and cook it in preheated oven at 220°C for ab. 15 minutes.
#getBready & enjoy your meal
Share on: