You've earned your guest's admiration with a creamy risotto at lunch but something went wrong with the servings….  Now you have so much risotto left that you could feed half the world!

I know, it happens to you too 🙂


Dumping food is a shame: fortunately I have the solution to avoid it and make delicious food.

Let's learn how to make an easy and effortless rice omelet!

SERVES 4 PEOPLE
READY IN 30′
INGREDIENTS:
left risotto
1 egg
2 tablespoons breadcrumbs
2 tablespoons Parmesan cheese
1 teaspoon parsley, chopped
salt and pepper to taste
1 tablespoon butter
1 tablespoon extra virgin olive oil
1 tablespoon extra virgin olive oil
STEP 1: MIX THE INGREDIENTS

Place risotto in a bowl and add: egg, breadcrumbs, Parmesan, parsley, salt and pepper.
Mix carefully.
STEP 2: PLACE IN THE PAN

Melt butter in oil in a non-stick pan.
Add the rice mixture and spread it on the pan pushing with a fork.
STEP 3: COOK
Cook the rice omelet covered with a lid for ab. 10-15 minutes on medium-low heat .
Once formed a golden crust, turn the omelet over, place some oil on the pan and replace the omelet in it cooking for 15 more minutes.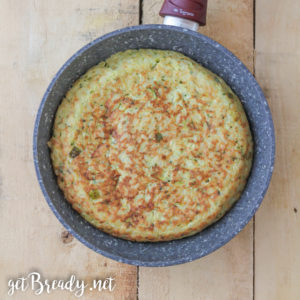 enjoy!
#getBready & enjoy your meal
Share on: