When time is running out and even the idea of a traditional Italian dinner (made of first course, second course and side dish) is so far away from you like mid-August snow (sure, not impossible, but highly unlikely), a solution for a complete dinner exists and it's called: savory pie.

So inviting,  it will "deceive" even most irreducible children (of all ages I mean): be ready for the encore request even if it's made of cauliflowers!
SERVES 4 PEOPLE
READY IN 45 '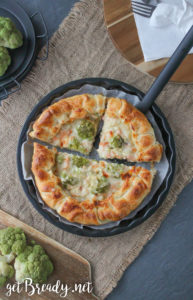 INGREDIENTS
1 green cauliflower
water and coarse salt to taste
1 tablespoon butter
1 tablespoon all-purpose flour
1 cup milk
salt and nutmeg  to taste
1 slice smoked salmon
1 tablespoon extra virgin olive oil
1 teaspoon chopped onion
1 tablespoon Parmesan cheese
Salt and Pepper  to taste
1 roll round puff pastry
Parmesan to taste
STEP 1: BOIL THE CAULIFLOWER
Rinse the cauliflower under water, then cut  into pieces and cook in a pan with boiling salted water for about 12-15 minutes.  Then drain and set aside.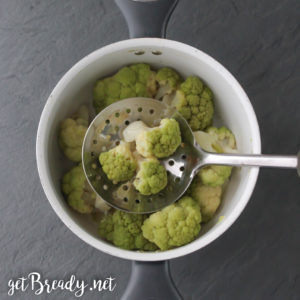 STEP 2: MAKE THE BECHAMEL SAUCE
Melt the butter in a saucepan, add the flour and let it brown.
Add  milk, salt and nutmeg and cook over low heat until boiling.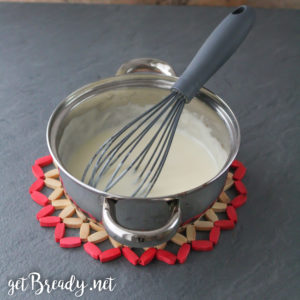 STEP 3: BROWN THE SALMON
Chop the salmon, then place it a pan with oil and onion  for a couple of minutes.
STEP 4: COMBINE THE INGREDIENTS
Place béchamel sauce, salmon, ¾ of boiled cauliflower,  Parmesan cheese, a pinch of salt and pepper in a bowl and mix  with a wooden spoon.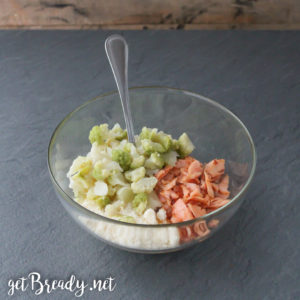 STEP 5: STUFF THE PIE
Roll the puff pastry out, place it in the baking pan and make some holes with a fork.
Stuff it with the  filling previously preparred.
Now decorate the center of the pie  with the preserved cauliflower (if you want to make them a real gluttony you can quickly sautè the bites with melted butter) and curl the edges of the dough turning them towards the center of the pie. Dust with Parmesan cheese.
STEP 6: COOK
Cook the pie  in preheated oven at 220 ° C for about 15 minutes.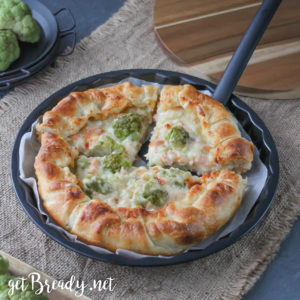 #getBready & enjoy your meal
Share on: