Classic with speck, stuffed with cheese, or even with beetroot: there're so many type of canederli (that is Italian dumplings)! Today we're having  the green ones, prepared with tasty spinach that both kinds and adult love.

–> With this recipe I take part in the cooking contest  #ViaggioInItalia DeRica, click and vote for me! <–
MAKES 10 DUMPLINGS
READY IN 45'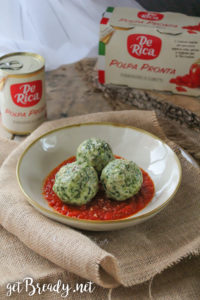 INGREDIENTS
1 tablespoon onion, chopped
1 tablespoon butter
1 tablespoon olive oil
4 oz spinach
9 oz stale bread, cubed (approx 0.5 x 0.5 cm)
2 eggs
½ glass warm milk
1 tablespoon grated Parmesan cheese
1 tablespoon parsley
Salt and pepper to taste
all-purpose flour to taste
water and coarse salt to taste
STEP 1: COOK THE SPINACH
Add the butter and oil to a sauce pan and brown the onion. Add the spinach and cook for 3 minutes.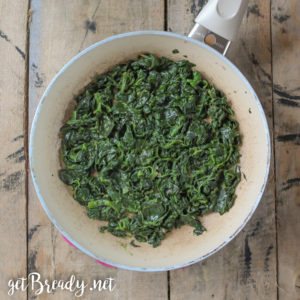 STEP 2: MAKE THE MIXTURE
Transfer the vegetables in a bowl and add the bread, eggs, milk, Parmesan cheese and parsley. Hand mix with caution to maintain the porosity of the bread, then add salt and pepper.
Let the mixture stand for 15 minutes.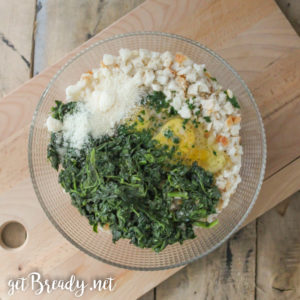 STEP 3: MAKE THE DUMPLINGS
If the mixture is sticky, add a little flour, if it is not, congratulations it's perfect!
Put a tablespoon of dough in your hand and make it round. Do the same with all the mixture.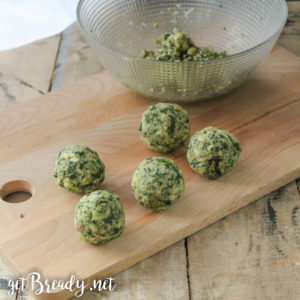 STEP 4: COOK
Cook the dumplings in boiling salted water for 15 minutes. Drain and serve them with grated Parmesan cheese covered with melted butter or with tomato sauce!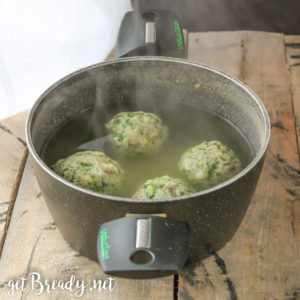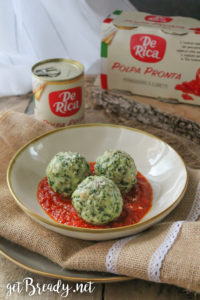 #getBready& enjoy your meal
Share on: