The idea in my head was put on by my dear Cristina, when one morning at work she asked me about the lemon risotto.

So my swaggering made me reply  "Of course I do, and it's so tasty, different from the usual"

Pity that an instant later she pressed me with the second question "So If I'm going to take a look o the blog I'll find it! " ehm … oops .. no, not yet.

How then could I not repair the damage and save face?

So here is a nice creamy risotto recipe with lemon and shrimps (don't worry if you don't have shrimps at home, it's excellent anyway)
SERVES 4 PEOPLE
READY IN 40'
INGREDIENTS:
1,5 US quart water
1 carrot
1 celery stick
½ onion
1/2 lemon
1 tablespoon extra virgin olive oil
Pepper to taste
1 teaspoon vegetable stock powder (click for the recipe)
1 teaspoon onion, chopped
2 tablespoons extra virgin olive oil
Ab. 20 shrimps
9 oz Carnaroli rice
¼ glas white wine,dry
1-2 teaspoons vegetable stock powder
1 teaspoon butter
STEP 1: MAKE THE BROTH
Peel the carrot. Slice carrot, onion and celery. Place vegetables in a pan with water and add lemon, oil, pepper and vegetable stock powder.
Cover with a lid and cook fora b. 30 minutes.
STEP 2: SAUTE' THE SHRIMPS
Place in a frying pan onion and oil . Add shrimps and cook just 1 minute.
Remove the shrimps from the pan and place them in a small bowl (you'll add them to the risotto at the end of the recipe!).
STEP 2: COOK THE RICE
Add the rice to the shrimps coking sauce and toast it.
Add white wine, and stir continually over medium heat until it is absorbed.
Add a ladle of broth and cook over medium heat (it must boil) for 15-20 minutes, occasionally adding a ladle of broth (or whenever the rice tends to dry) and vegetable stock powder.
Before turning the fire off add shrimps.
STEP 3: MAKE IT CREAMY
Remove from  heat and add butter. Mix slowly and bring to the table.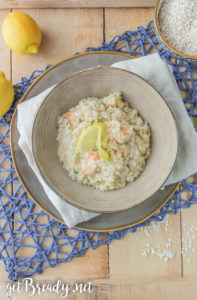 #getBready & enjoy your meal
Share on: