After vegetables and chicken it's time to make balls with fish! Let's start with cod, such a delicate flavour, reccomended for children!
SERVES 4/5 PEOPLE
READY IN 20'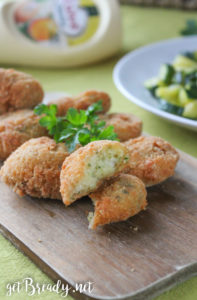 INGREDIENTS
12 oz di cod fillet
2- 3 slices bread
1 egg
2 tablespoons Parmesan cheese
1 teaspoon parsley, chopped
Salt and pepper to taste
2 tablespoons all-purpose flour
½  glass milk
1 egg
1 teaspoon oil
Salt to taste
Breadcrumbs to taste
Frying oil
STEP 1: MAKE THE MIXTURE
Remove bones frome the fillet, then cut it into cubes. Place bread and fish cubes into the mixer and mix. Place the mixture in a bowl and add: egg, Parmesan, parsley, salt and pepper.
STEP 2: MAKE THE BATTER
In a bowl beat all-purpose flour, milk, egg, oil and salt to get a thick batter.
STEP 3: SHAPE NUGGETS
Take a teaspoon of mixture and make it round, then press it to make it ovale.  Deep nuggets into the batter and then into the breadcrumbs.
STEP 4: COOK NUGGETS
Place frying oil into a pan and cook nuggets in it until golden (ab. 6-7- minutes).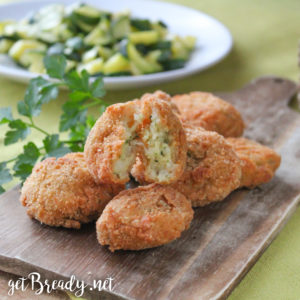 #getBready & enjoy your meal
Share on: