For those who visit beautiful Liguria for the first time this is definitely a must, for those who already know it it's a cuddle that can't wait to re-indulge as soon as the eyes meet that immense blue of the sea …

Farinata is one of the most representative recipes of my mother's land, I've been devouring it since I was little thanks to my grandparents before and my uncle now.

It is basically a kind of omelette and focaccia made with chickpea flour.

It's crunchy on the outside and almost thick inside, flavored with freshly picked rosemary.

Well this time I certainly couldn't cook it, so I decided for a special guest to introduce it to you properly: Uncle Pino!

–> TO THE BOTTOM FOR THE VIDEO <–
MAKES 3 PANCAKES (diameter 40 cm)
READY IN 2h 15'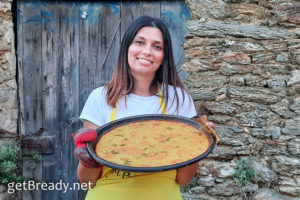 INGREDIENTS:
3 cups chickpea flour
6,5 cups water
Salt to taste
½  cup extra virgin olive oil (possibly ligurian ;-))
Rosemary to taste
STEP 1: MIX THE INGREDIENTS
In a bowl mix together the chickpea flour, the water and the salt. Blend it using an immersion blender or a whisk.
STEP 2: LET IT STAND
Cover the bowl with clingfilm and let the batter stand a couple of hours at room temperature.
STEP 3: BAKE THE CHICKPEA PANCAKES
Place in each baking tray 4 tablespoons extra virgin olive oil, then add about 3-4 ladles of batter (you should get a 3-4 mm layer). Mix oil and batter directly into the baking tray using a spoon, then add rosmary to taste.
Bake the chickpea pancakes in preheated oven at maximum temperature until amber-coloured (about 10 minutes in wood oven, a bit longer at home).
A PIECE OF ADVICE: Baking is maybe the most difficult step of the recipe, i suggest you to check it a couple of times or more if necessary. Remember that a crispy surface means that the pancakes are almost cooked.
#getBready & enjoy your meal
Share on:
Salva
Salva