A lot of children don't like vegetables, in particular spinach!

But all mums know that vegetables are important in kids nutrition! How to solve the problem?? take a look at this easy and practical recipe to cook delicious chicken cutlets made of meat and spinach 🙂
MAKES 5 CUTLETS
READY IN 35'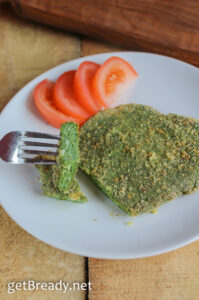 INGREDIENTS:
4 oz frozen spinach
1 chicken breast
1 teaspoon onion, chopped
1 egg
6 tablespoons breadcrumbs
2 tablespoons Parmesan cheese
Salt and pepper to taste
Breadcrumbs to taste
Olive oil to taste
STEP 1: BOIL THE SPINACH
Boil spinach in hot water for about 6-8 minuti; then drain them sqeeze them and put them aside.
STEP 2: MAKE THE MIXTURE

Finely chop spinach, chicken and onion in a mixer. Place the mixture in a bowl and add: egg, breadcrumbs, Parmesan cheese, salt and pepper.
STEP 3: SHAPE THE CUTLETS

Divide the mixture in 5 parts and shape the cutlets by hand. Deep each cutlet in breadcrumbs and place it in a baking  tray covered with backing paper. Sprinkle with oil.
STEP 4: COOK THE CUTLETS

Cook the cutlets in preheated oven at 200°C for 20 minutes.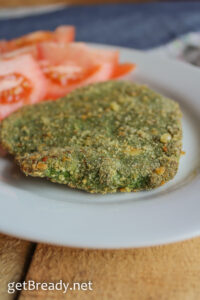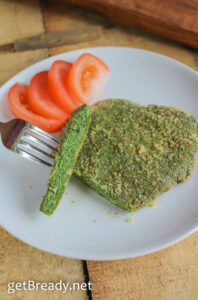 #getBready & enjoy your meal
Share on: