How are you preparing for Christmastime? In my family , thanks to the numerous birthdays in December , there are so many opportunities for general rehearsals

So, this year I've tried a velvety and creamy bakedpasta in crust!A real delicacy.

Making it is very simple, it's so scenographic and above all it's a baking recipe that you can make in advance! (so smart!)

I've chosen a delicate chicken ragù for the filling and here I will explain step by step how to prepare it!
SERVES 6 PEOPLE
READY IN 1h 20′
INGREDIENTS:
1 chicken breast
1 carrot
Rosemary to taste
1 teaspoon onion, chopped
3 tablespoons extra virgin olive oil
¼  glass white wine, dry
½ glass hot water
Salt and pepper to taste
1 cherry tomatoes can
1 tablespoon all-purpose flour
1 tablespoon butter
1 glass milk
Salt and nutmeg to taste
2 tart dough / shortcrust rolls (I used Stuffer)
1 beaten yolk + 1 pinch salt
Parmigiano cheese to taste
STEP 1: CUT THE INGREDIENTS

Using a knife, cut the chicken slices, the carrot and the rosemary. Grate onion .
STEP 2: MAKE THE CHICKEN SAUCE

Place onion and oil in a pan and let it sautè until golden.Add carrot and rosemary and cook for a couple of minutes, then add cubed chicken and cook until brown. Simmer with white wine until reduced, then add  water salt and pepper and cook for other 6-7 minutes.
Add cherry tomatoes and cook for 30 more minutes on low heat covering the pan with a lid.
STEP 3: MAKE THE BECHAMEL SAUCE

Melt butter in a pan, then add all-purpose flour and wish well to get a golden batter. Add, little by little, milk, then salt and nutmeg to taste. Cook it for 10 minutes then turn the heat down.
STEP 4: COMBINE THE INGREDIENTS

In a bowl combine chicken sauce + béchamel sauce.
STEP 5: MAKE THE CRUST

Let's start with the lid. Unroll the first roll of shortcrust pastry and cut a 24 cm diameter circle.
Using the external strip make decorations (I made leaves and flowers using cookie cutters).
Arrange the decorations on top of the short crust pastry disc and brush with the beaten egg yolk.
Now make the rest of the crust.
Unroll the second roll of shortcrust pastry and place it on top of an upside down cakepan, pressing well on the edges so that it adheres giving a concave shape.
Brush it with the beaten egg yolk and make some holes using a fork.
Cook the crust in preheated oven at  200°C  for ab. 20 minutes (til golden).
STEP 6: COOK PASTA

Cook pasta in hot salted water for the cooking time shown on the package (I recommend not letting it overcook!).
After cooking, drain it.
STEP 7: COMBINE
Combine pasta with chicken sauce + béchamel  and place it into the crust.
sprinkle with Parmigiano and cook in preheated oven at  180°C for about 20 minutes.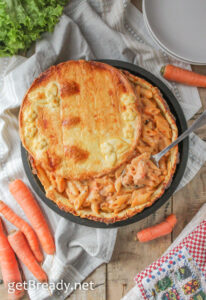 #getBready & enjoy your meal
Share on: