Sometimes in Italy we saiy that some recipes help to "clean up the mouth" … this has always made me thinking about the sprinkle of lemon that my dad used to add to water after party lunches.

    Well, citrus fruit actually have the power to give a sensation of freshness even when they are offered in the most sumptuous desserts, so why not use them to flavor a nice piece of cod?

    Said and done: here is a soft baked fish, not at all dry and with a nice crunchy breading with an orange scent of Sicily.
SERVES 2-3 people
READY IN 25′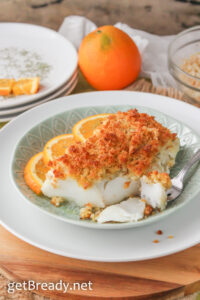 INGREDIENTS:
1/2 orange
1 tablesboon lemon juice
1 tablesboon extra virgin olive oil
1 teaspoon rosemary
1 pinch salt
35 oz codfish
2 slices bread
1 teaspoon lemon zest, grated
1 teaspoon orange zest, grated
1 pinch salt
1 tablespoon extra virgin olive oil
extra virgin olive oil to taste
STEP 1: MAKE THE MARINATION

Squeeze the juice from half an orange and strain it. Transfer it to a bowl and add: lemon juice, oil, rosemary and salt.
Beat with a fork.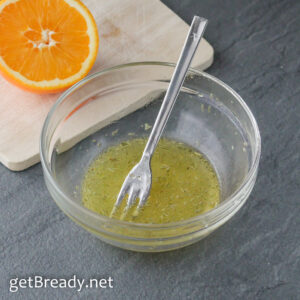 STEP 2: MARINATE THE FISH
Place the fish in a dish and cover with the marination.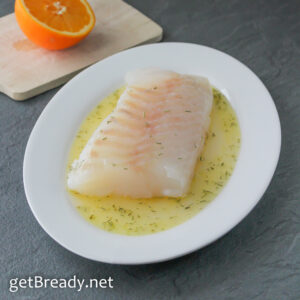 STEP 3: MAKE THE BREADING

Blend the bread slices, transfer them to a bowl and add the lemon peel, orange peel, salt and oil.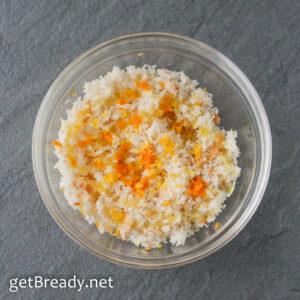 STEP 4: PLACE IN THE BAKING SHEET

Line  a baking sheet with parchment paper, add 1 tablespoon of oil and place the fish on it.
Now add the marination.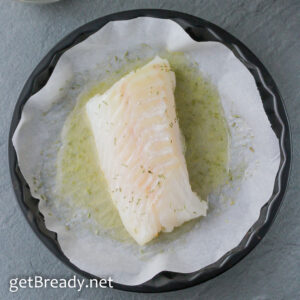 Cover the fish with aromatic bread.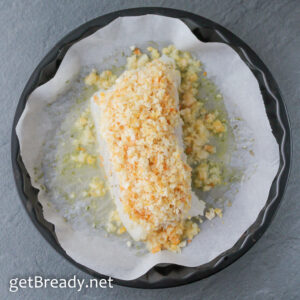 Sprinkle with oil and cook in preheated oven at 200°C for ab. 15-20 minutes.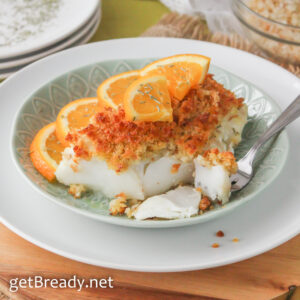 A PIECE OF ADICE: if you're not in a hurry, give the cod even more flavor and at step 2 let it marinate covered with plastic wrap for 1 hour.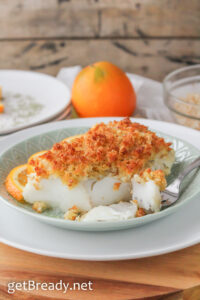 #getBready & enjoy your meal
Share on: