A kind of melancholy always assails me when holidays are getting over… does it happen to you too?

Maybe the reason is that next celebration time will be Carnival?? 🙂

So I'm revealing you my post-Christmas anti-sadness solution: and guess what? It's cooking!

Today I'm suggesting you a really practical and quick savory strudel: it's made of a simple puff pastry and stuffed with salmon-flavored cream cheese with a pinch of parsley.

And if you still have a few slices of smoked salmon (usually a must during Christmastime), even better! you can slice it into strips and add it to the filling!

-> To the bottom of the page to watch the VIDEORECIPE! <-
MAKES 1 strudel
READY IN 20′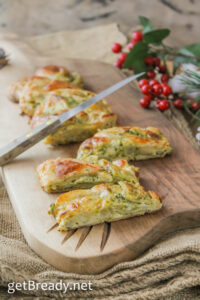 INGREDIENTS:
1 puff pastry roll, rectangular (I used Stuffer)
3 tablespoons salmon flavored fresh cheese* (I used Stuffer)
* even simply freshcheese is ok
parsley to taste
all-purpose flout to taste (for the pastryboard)
1 egg yolk
1 pinch salt
STEP 1: FILL THE PUFF PASTRY

Unroll the puff pastry sheet and spread the salmon flavored freshcheese on it.
Sprinkle with parsley and spread it too.
STEP 2: SHAP THE STRUDEL
Wrap the stuffed puff pastry sheet.
Slice it to get two strips and place them on a lightly floured pastry board.
Twist the strips to make a kind of braid (watch the video below). Remember non to tighten too much!
STEP 3: BRUSH AND COOK
Transfer the strudel on a baking sheet lined with parchment paper and brush it with the beaten egg yolk + a pinch of salt.
Cook the strudel in preheated oven at 220 ° C for about 18 minutes.
#getBready & enjoy your meal
Share on: