Simply delicious!

Artichoke fritters are soft and, despite being fried, remain pretty dry!

Highly recommended when cooked artichokes are left over, but nobody forbids you to prepare them ad hoc for this delicious recipe, since it's really worth it 😉
MAKES 18 FRITTERS
READY IN 1h 30'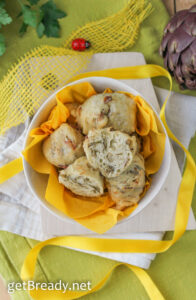 INGREDIENTS:
2 artichokes
2 tablespoons extra virgin olive oil
1 tablespoon chopped onion
Salt to taste
0,35 oz fresh brewer's yeast (approx. ⅓ cube)
6,3 oz warm water
1 egg
2 pinches salt
11,3 oz all-purpose flour
frying oil to taste
STEP 1: CLEAN THE ARTICHOKES
Rub your hands with lemon juice to avoid staining them cutting artichokes.
Take an artichoke and cut the tip with a knife. Start removing by hand the outer leaves (the hard ones) until you reach the heart.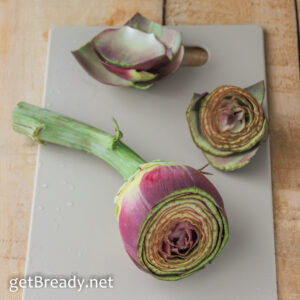 Cut the stem of the artichoke and peel it with a potato peeler until you reach the inside part. Cut the artichoke into pieces of approx 0.5 x 0.5 and put them into a bowl with water and lemon juice.
Continue cutting in half the hearts of artichokes and remove the beard kept inside.
Important: while working with the knife, keep cutten artichokes in water to prevent them from blackening.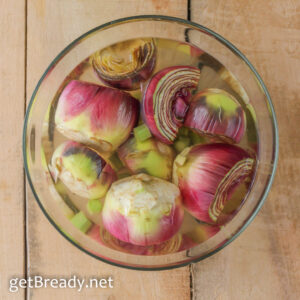 Take all the cutten parts of artichokes and cut into strips.
Place oil and onion in a pan and let it brown. Then add sliced ​​artichokes and cook with the lid on for about 15 minutes, adding just enough salt.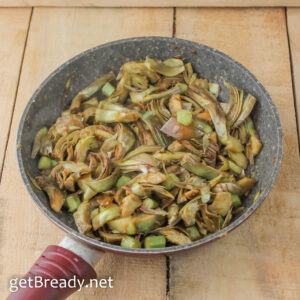 STEP 2: MAKE THE BATTER
In a bowl, dissolve the yeast into the water, then add egg and finally salt. Stir and add flour until you get an elastic and firm batter.
Finally add cooked artichokes (but let them cool before!) and combine them with the dough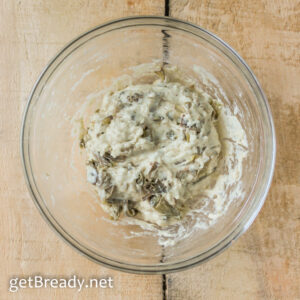 STEP 3: LEAVENING
Let the batter rise covered with plastic wrap for approx. 1 hour (until doubled).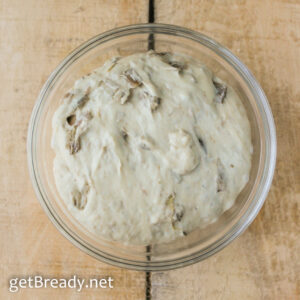 STEP 4: FRY THE FRITTERS
Take a sppon of dough and dip it in abundant hot oil for a few minutes, turning until completely golden.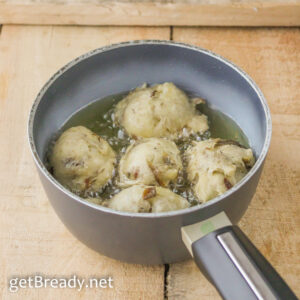 Drain and place on kitchen paper.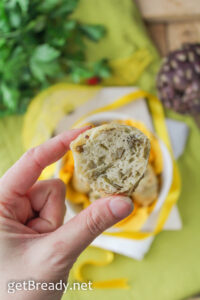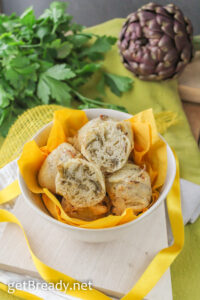 #getBready & enjoy your meal
Share on: