So simple, so delicious: this is how tarts are.

    A great idea for an outdoor lunch (really comfortable to bring with you!).

Whether it's the beach, the woods or even the work desk, it doesn't matter, with one bite they'll be able to transport you straight on vacation!
MAKES 5-6 SMALL TARTS
READY IN 30′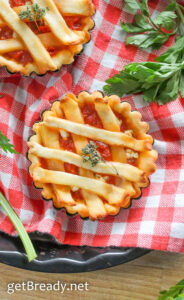 INGREDIENTS:
1 tablespoon extra virgin olive oil
1 teaspoon onion
1 cherry tomatoes can
salt to taste
oregano to taste
1 pizza dough sheet (I used Stuffer)
oil to taste
2 tablespoons ricotta cheese
oli to taste
STEP 1: MAKE THE SAUCE

Place oil and onion in a non-stick pan and brown for 1-2 minutes. Add cherry tomatoes and mash them with a fork.
Add salt, oregano and cook covered with a lid for ab. a quarter of an hour.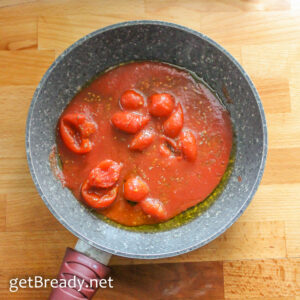 STEP 2: MAKE THE TARTS

Unroll the pizza dough and cut some circles 1-2 cm larger than the tart molds.
place the pizza circles in the tart molds (previously brushed with oil) pressing with fingers. Remove the dough excess.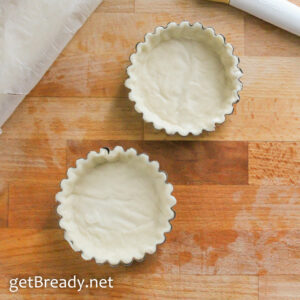 Don't throw away the scraps of pasta but reshuffle them, roll them out with a rolling pin and cut them into strips (you will need them in the next step).
STEP 3: FILL THE TARTS

Fill the tarts with a couple of tablespoons of tomato sauce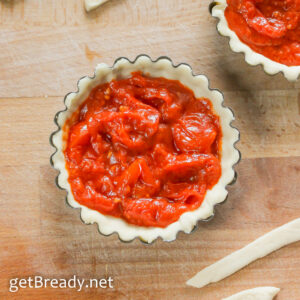 and add a bit of Ricotta cheese too.
Place the dough strips on the top and press the edges. Sprinkle with oil.
STEP 4: COOK
Cook the small tarts in preheated oven at 220°C for 15 minutes.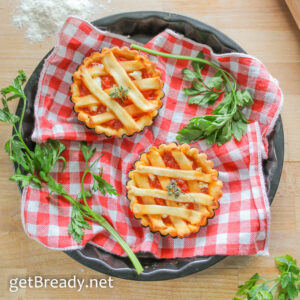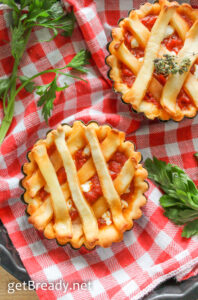 #getBready & enjoy your meal
Share on: