Honestly, I definitely prefer hot weather than cold, but I must admit that when summer comes, there is something that I regret: the intensely chocolaty desserts.

Today, however, I'm making you a great revelation: I found a way to enjoy the Lindor-style cuddle even under the scorching sun!!

In Italy its name is "Bavarian" with chocolate and hazelnuts: fresh and enveloping, so enveloping!
MAKES 1 PLUMCAKE MOLD
READY IN 20' (+ freezer resting time)
INGREDIENTS:
3,5 oz rusks
3,5 oz biscuits
2,4 oz hazelnuts
3 oz butter
4 sheets gelatin
1 glass cold water
1,4 oz cream
5,3 oz dark chocolate
3,5 oz fresh cream
5,3 oz creamy yogurt (I used Stuffer)
5,3 oz fresh cheese (I used Stuffer)
6,3 oz icing sugar
Whipped cream to taste
Chopped hazelnuts to taste
STEP 1: MAKE THE BISCUIT BASE

Place rusks, biscuits, hazelnuts and butter in the blender.
Finely chop.
Line the plumcake pan with parchment paper
and place half of the biscuit mixture on the bottom pressing well with the back of a spoon to make it adhere.
Put the mold in the refrigerator.
STEP 2: MAKE THE CHOCO PARFAIT

Soak the gelatin in cold water.
Meanwhile, melt the chocolate in a bain-marie together with the cream.
Remove from heat and add the squeezed gelatin, mixing well
While the chocolate returns to room temperature, whip the creamNow add to the chocolate: yogurt, fresh cheese and icing sugar, with a whisk.
Finally add the cream incorporating it gently.
STEP 3: MAKE THE BAVARIAN
Take the plumcake pan out of the fridge. Place the chocolate cream inside the mold.
Level it,
and cover with the remaining biscuit mixture (level without pressing too much because the chocolate cream is soft).
STEP 4: PUT IN THE FREEZER
Let the cake cool so that the top biscuit base solidifies a little, so it will be easier to cut it into slices.
Remember: if you can't resist the Bavarian cream is also excellent in a creamy version, so it's ready to taste!
If you are patient, put the cake into the freezer for a couple of hours 😉

STEP 5: DECORE
Now turn the Bavarian over in a serving dish, removing the parchment paper.
Decorate with flakes of cream and chopped hazelnuts.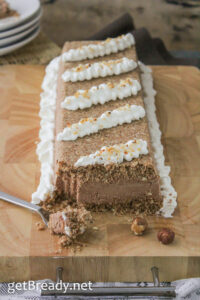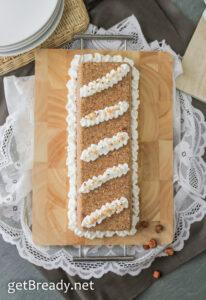 #getBready & enjoy yourm meal
Share on: