A classic of Ligurian bakeries

    As a child I didn't like onions very much, but even then I remember that the aroma given off by focaccia with onions made me fall in love intoxicating the warm air of the bakery (a must both before and after the beach).

    So, what I used to? I always chose that piece of classic focaccia close to the onion one, so that a little bit of aroma passed.

    Children have their strange way… me too!
MAKES  36X34 CM FOCACCIA
READY IN 15 h (night leavening)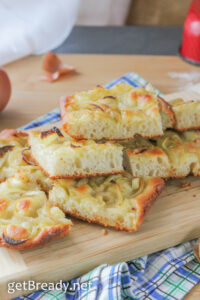 INGREDIENTS:
9 oz "00" flour
9 oz "0" flour
1/2 oz brewer's yeast, dry
1 teaspoon honey
1 + 1/4 cups lukewarm water
3 pinches salt
3 tablespoons extra virgin olive oil
2 onions
2 tablespoons extra virgin olive oil
Salt to taste
½ glass lukewarm water and oil + 1 pinch salt
Coarse salt to taste
Water and oil to taste
STEP 1: MAKE THE DOUGH

Place in a bowl: the two type of flour, the yeast dissolved into  1 tbs water, honey, lukewarm water, salt and oil. Knead (by hand or using a fork).
You'll get a rather sticky dough.
Cover the bowl with plastic wrap and place it into the fridge overnight.
STEP 2: ROLL THE DOUGH

The next morning, take the dough out of the fridge and stand at room temperature for 1 hour.
Place oil in the tray and pour the dough over it and rolling it out by hand.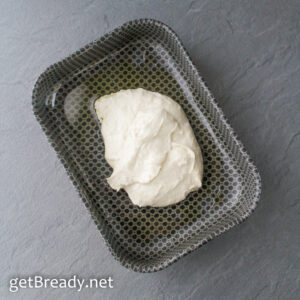 If while you're rolling out the dough it tends to come back, don't worry: let it rest for a few minutes, then roll it out again, you'll be able to pull it all over the surface of the tray.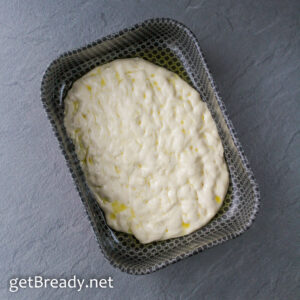 Let it rest for ab. 30 minutes.
STEP 3: SLICE THE ONIONS

While focaccia is leavening, slice onions and season with salt and oil.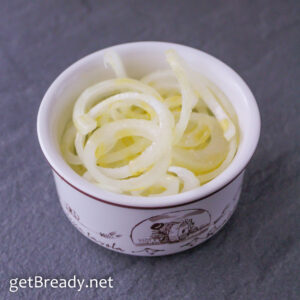 STEP 4: MAKE THE DELICIOUS HOLES

Now sink your fingertips into the focaccia to form cavities, pour over the mix of water – oil – salt.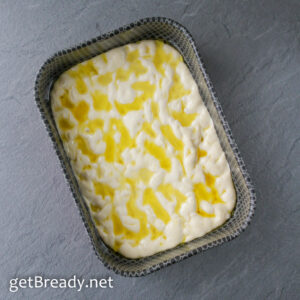 Add onions and sprinkle with coarse salt.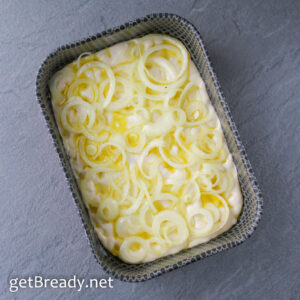 Let it rest for ab. 30 minutes.
STEP 5: COOK
Bake the focaccia in preheated oven at 250 ° C for about 30 minutes (it must brown on the top).
Once taken out of the oven, brush it again with the mix of water and oil.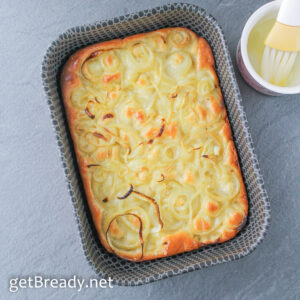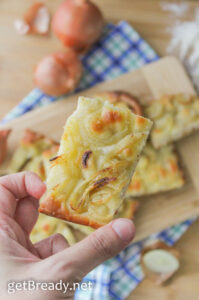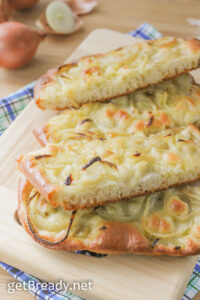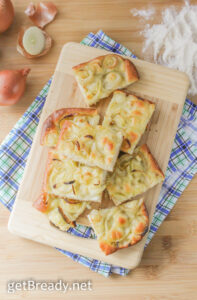 #getBready & enjoy your meal
Share on: