The curse of the oven won't stop us to bake cakes!

 September temperature is finally giving us some respite (you know I'm speaking for #ovenaddicted like me: we could no longer resist to turn it back on)!

So this morging I've decided to make a delicious cake with peach but…  as soon as the cake dough was ready I realize that the oven doesn't work!!

 What to do then? Do I despair? Do I throw it all out and give up?

  NO!

  Fortunately, there is another way to cook desserts, simply using pot and stove!

   If you are skeptical I suggest you try to change your mind, that's an excellent solution to make soft cakes even when our most trusted ally betrays you!
MAKES 1 25 CM DIAMETER CAKE

READY IN 45'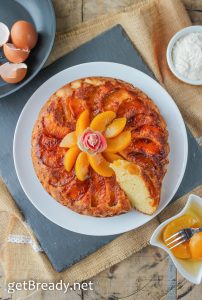 INGREDIENTS:
2 eggs
4,2 oz sugar
1,7 oz milk
1,7 oz seed oil
5,3 oz all-purpose flour
1 teaspoon baking powder
almand extract to taste
2 peaches in syrup
1 teaspoon butter
1 tablespoon brown sugar
STEP 1: MAKE THE CAKE

Beat eggs and sugar with the electric whisk.
You should get a fluffy mixture.
Add, little by little, oil and milk.
Add, a ladle at a time, flour,  baking powder and almond extract.
STEP 2: PLACE THE PEACH

Slice the peaches. I used peaches in syrup but you can also use peeled fresh peaches.
Butter a non-stick pan with a diameter of 25 cm, place a circle of parchment paper on the bottom,
sprinkle with brown sugar
and place the slices of peach all around
STEP 3: ADD THE CAKE DOUGH

Pour the cake mixture over the peaches.
STEP 4: COOK
Transfer the pan to the larger stove, but keep it to a minimum!! (pay attention).
Cook with the lid on for about 25 minutes (until you see the top of the cake thicken).
Turn the cake upside down with the help of a plate, place a new sheet of parchment paper on the bottom of the pan and continue cooking at minimum for 10 more minutes.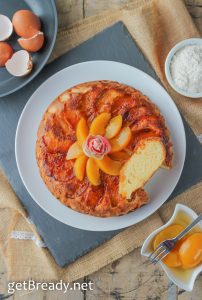 #getBready & enjoy your meal
Share on: